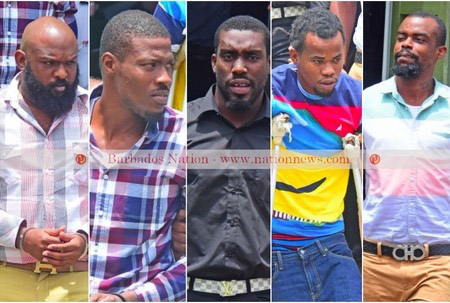 (Barbados Nation) Five men were yesterday remanded  over the murder of  British National, Steven Weare 49 years, formerly of Newcastle Plantation House, St.John, who was reported missing on Wednesday the 23rd day of August 2017. Weare was last seen, sometime during the afternoon of the 23rd in the car park of Burger King situated at University Drive, Black Rock, St. Michael.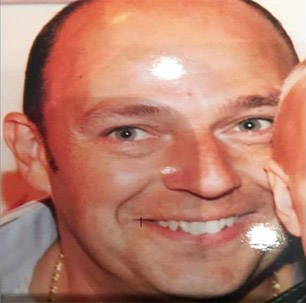 The five charged are:
Sunil Decourcey Brome, 35 years, of #7, Alamanda Drive, West Terrace, St. James.
Keino Nakito Griffith, 30 years, of Pounders Gap, Westbury Road, St. Michael.
Christopher Darnley Michael Clarke, 26 years, of Oughterson, St. Philip.
Torio Akiro Watson, 26 years, of Block 6D, Field Road, Wildey, St. Michael.
Basil Alphonso Branch, 27 years, of Morris Gap, Westbury Road, St. Michael.
They appeared  in the District 'A' Magistrates Court yesterday.
Comments

(Jamaica Gleaner) "A suh it go, man." That was the reaction of dancehall artiste Ninja Man as he and his co-accused were led from the Home Circuit Court in handcuffs Monday afternoon.

UNITED NATIONS,  (Thomson Reuters Foundation) – Rich nations responsible for climate change need to help rebuild the Caribbean island of Barbuda where living conditions remain "primitive" more than two months after Hurricane Irma, Antigua and Barbuda Prime Minister Gaston Browne said yesterday.
WASHINGTON, (Reuters) – The United States will end in July 2019 a special status given to about 59,000 Haitian immigrants that protects them from deportation, senior Trump administration officials said yesterday.

(Jamaica Observer) Minister of Justice Delroy Chuck is increasing the pressure on judges to deliver judgments in a timely manner, despite criticisms that he could come across as appearing to interfere with the work of the judiciary.
(Trinidad Guardian) A and V Oil and Gas limited, through its attorneys, says any discrepancies between reported oil production in its Exploration and Production Operations and the actual production receipts at Pointe-a-Pierre is the fault of state-owned Petrotrin.