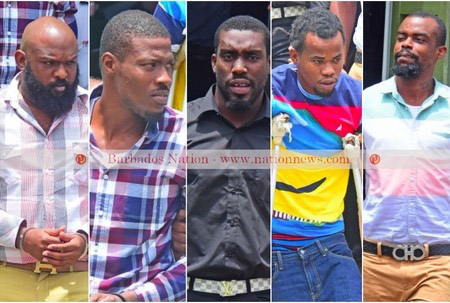 (Barbados Nation) Five men were yesterday remanded  over the murder of  British National, Steven Weare 49 years, formerly of Newcastle Plantation House, St.John, who was reported missing on Wednesday the 23rd day of August 2017. Weare was last seen, sometime during the afternoon of the 23rd in the car park of Burger King situated at University Drive, Black Rock, St. Michael.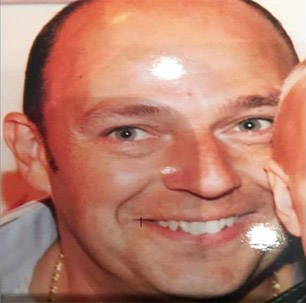 The five charged are:
Sunil Decourcey Brome, 35 years, of #7, Alamanda Drive, West Terrace, St. James.
Keino Nakito Griffith, 30 years, of Pounders Gap, Westbury Road, St. Michael.
Christopher Darnley Michael Clarke, 26 years, of Oughterson, St. Philip.
Torio Akiro Watson, 26 years, of Block 6D, Field Road, Wildey, St. Michael.
Basil Alphonso Branch, 27 years, of Morris Gap, Westbury Road, St. Michael.
They appeared  in the District 'A' Magistrates Court yesterday.
Comments

Residents working on their roof in badly damaged neighborhood are seen from a Marine Corps MV-22 Osprey surveying the aftermath from Hurricane Maria in St.
MEXICO CITY,  (Reuters) – Rescuers swarmed over rubble with shovels and picks yesterday in a frantic search for survivors two days after Mexico's deadliest earthquake in a generation, focusing on 10 collapsed buildings where people may still be alive.

MEXICO CITY,  (Reuters) – Mexican rescuers yesterday laboured for a second night amid the rubble to save possible survivors of the country's most lethal earthquake in a generation, including a girl trapped under a school in Mexico City, as the death toll exceeded 230.
LIMA,  (Reuters) – Villagers in the Peruvian Amazon have shut down at least 50 oil wells operated by Frontera Energy Corp to protest talks over a new contract even as past pollution lingers, the leader of an indigenous federation said yesterday.

(Trinidad Express) Grandmother Haniffa Bedassie operated a mini mart in her Chaguanas community for over two decades without ever being robbed, until yesterday.