(Trinidad Express) The State is soon to start legal action against former Government minister  Dr Roodal Moonilal over allegations of bid rigging with respect to some ten contracts through the Estate Management and Business Development Company (EMBD) in 2015.
Minister in the Office of the Attorney General Stuart Young disclosed yesterday that Government has also, through the Estate Management and Business Development Company (EMBD), filed claims in the court against five contractors for alleged "cartel" arrangements and attempts to defraud.
Those claims were filed last Thursday.
The contractors  – TN Ramnauth and Company Limited, Mootilal Ramhit and Sons Contracting Limited, Kallco Company Limited (Kallco), Namalco Construction Services Limited (Namalco) and Fides Limited (Fides) – have, according to Young, been found to have colluded to defraud the State of over TT$200 million through bid-rigging and contracts with inflated costs.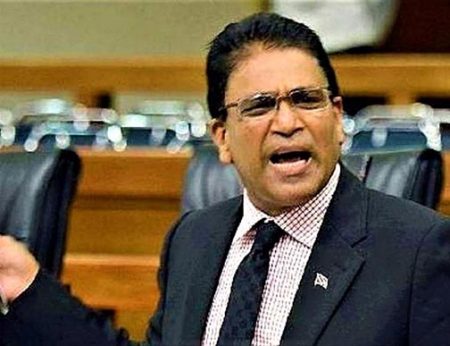 The work for which the money was paid was mostly the upgrading of traces and roads of former Caroni (1975) Ltd lands, which Young said was examined over the last 18 months and to be mostly of "no value" and "worthless".
The State's action will include claims against former chief executive officer of the EMBD, Gary Parmassar, who was in 2016 among officials of that company sent on administrative leave, pending a financial audit into the awarding of $400 million worth of contracts through the State-owned company.
Young said Govern-ment's "best in school" forensic team has found evidence of collusion, mostly via text messages, among Moonilal, the contractors and the EMBD official.
Young said there is also evidence that the five contractors were "hand-picked"  for the upgrade and rehabilitation of certain Caroni Roads.
Four of the contractors, Namalco, TN Ramnauth, Kallco and Ramhit, last year commenced legal action against EMBD for recovery of monies that they allege are owed to them, including a  Namalco claim in May 2016 for over TT$1 billion.
The claims were yesterday stayed in the High Court and while Young could not say when the test of the State's action will hit the court, he said he hoped it would be "soon".
"As a result of the work conducted, evidence has been unearthed, based on forensic work, an analysis of actual work done versus what was claimed to be done, an analysis of the tenders submitted by the contractors and following the money, which supports a conclusion of bid-rigging and cartel behaviour amongst these 5 contractors, supported and/ or encouraged and/or permitted by persons in public office, including the former Minister of Housing, Dr Roodal Moonilal, who at all material times was the line Minister for EMBD," Young stated at a press conference yesterday at the Office of the Attorney General and Legal Affairs.
The forensic work, according to Young, included text messages from the phone number registered to Moonilal, instructing Parmassar to prepare cheques for tens of millions of dollars to these contractors and to bring the cheques to him, as the former Housing Minister, once prepared.
They also show Mr Taradauth Ramnauth organising a HDC house for Mr Gary Parmassar, telling him who to award contacts from EMBD to and how much to pay these identified contractors, Young said.
Around the Web