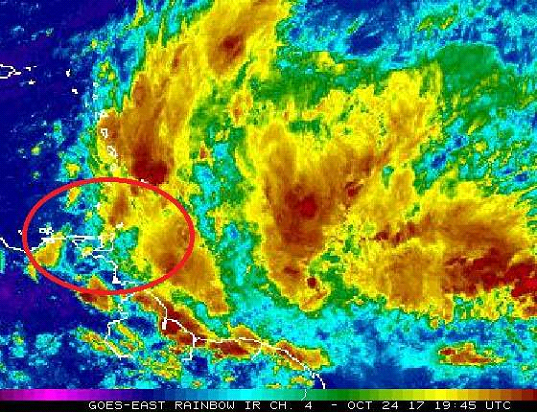 (Trinidad Express) BULLETIN: Weather activity associated with the Inter-Tropical Convergence Zone (ITCZ) is forecast to affect Trinidad and Tobago in 12 to 24 hours, from early Wednesday morning. Trinidad and Tobago will experience cloudy conditions accompanied by periods of light to moderate showers or rain, some heavy at times, with an 80% (high) chance of thundershowers.
Localized street or flash flooding is likely in heavy or prolonged downpours and this can further exacerbate areas that remain inundated from recent vicinity of heavy showers or thundershowers. There is also the likelihood of landslides/landslips in areas so prone.
Citizens are advised to be vigilant and cautious as they conduct their activities and as always, pay close attention to our regular weather updates at 6am, 10am, 3pm and 6pm by visiting our website at www.metoffice.gov.tt/forecast, downloading our mobile app (search: TT Met Office) and following us on Facebook and Twitter.
All necessary measures MUST be taken to preserve life and property from adverse weather conditions.
The Trinidad and Tobago Meteorological Service will continue to closely monitor this weather event and will issue another bulletin at 12:00 p.m. Wednesday or sooner if the situation warrants.
Around the Web