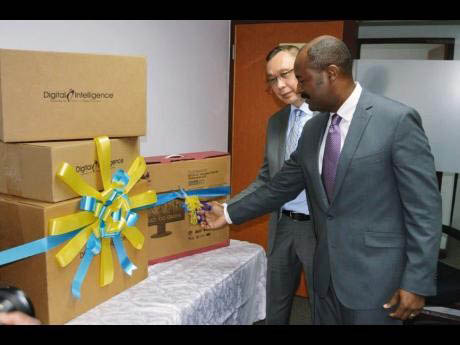 (Jamaica Gleaner) Forensic recovery of evidence data centre devices that can extract data from computers and smartphones, along with other critical pieces of equipment to aid in the fight against corruption, were yesterday handed over to the Office of the Contractor General (OCG) by the United States Embassy.
The equipment, valued at a little more than J$17 million, will boost the capacity of the corruption oversight body to more effectively police the procurement process in the public sector to ensure that it is free from corruption.
It was donated by the Department of State, Bureau for International Narcotics and Law Enforcement Affairs in the United States.
Contractor General Dirk Harrison, who accepted the equipment from Eric Khant, United States Charge d' Affaires to Jamaica, said that the donation would assist the OCGacc and its successor, the Integrity Commission, to reach and maintain international best practices as "we investigate acts of impropriety and perceived acts of corruption".
In his comments at the handover ceremony, held at the OCG's offices on Oxford Road in Kingston, Harrison said that the forensic recovery of evidence data centre equipment would enhance the overall information and communication technology capacity of the office and its investigative function.
He said that the OCG and the new dispensation of the Integrity Commission must be equipped and well oiled and capable of being a step ahead, if not always alongside, those persons being investigated and monitored.
The OCG boss said that in the last 10 months, investigators from his office had been trained overseas to enhance their investigative capabilities.
Training has also been provided to OCG staff in effective interrogation statement analysis; major case management; economic crime investigation; contract and procurement fraud; and obtaining, managing, and searching electronic evidence.
Around the Web