Five men were yesterday remanded over the murder of Danian Jagdeo, a phone card distributor, on February 8, at Adventure, Corentyne during a robbery.
The five men: Mark Dhuman, 22, a businessman of Lot 109 Nigg Settlement, Corentyne; Abdul Andre Azimullah, 34, a cattle farmer of Lot 183 Hampshire Village; Abdul Zahir, 28, a cane harvester of New Scheme, Adelphi Village, East Canje; Shannon Batson,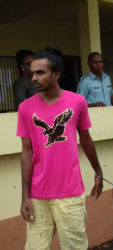 24, a livestock farmer, of Topoo, Corentyne and Satesh Budhram, 19, a painter of Lot 70 C Hampshire Village, Corentyne, all appeared at the Whim Magistrate's Court where they were charged jointly with murder.
Magistrate Charlyn Artiga read the charge which stated that on February 8 the men allegedly murdered Jagdeo during the course of robbery. The accused were not required to plead to the indictable charge.
The men all alleged that they were physically assaulted by the police while they were in custody.
Attorney-at-law Rohan Jagmohan, who was representing Budhram in court, yesterday also represented Dhuman since his attorney Murseline Bacchus was absent. Jagmohan lodged a complaint with the court that both men were beaten. He told Magistrate Artiga that Budhram was beaten by ranks on the Albion Estate main access road while Dhuman was beaten at the Whim Police Station.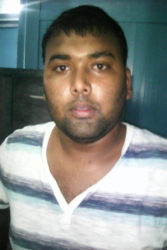 Attorney at law, Tanya Warren Clements in association with attorney-at-law, Kim Kyte, who represented Azimullah also lodged a complaint with the court that her client was beaten by police officers at the Albion Police Station and also at the Whim Police Station.
Meanwhile, Zahir who was unrepresented, told Magistrate Artiga that he was beaten on the Tain main dam. Zahir said that he sustained a fractured rib on his left side and requested medical attention but that police ranks denied his request. Magistrate Artiga told him that she would ensure that he is examined by a medical professional.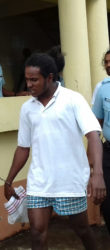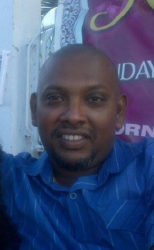 Also unrepresented was Shannon Batson, who told the magistrate that he was beaten at the Rose Hall Outpost and the Whim Police Station. He claimed to have sustained a fractured rib, as well as injuries to his face. Batson also alleged that ranks discharged three rounds at him, one of which grazed the left side of his forehead.
Jagmohan and Warren both made a request for disclosure of statements. Police Prosecutor, Phillip Sheriff told the court that one statement was still outstanding for the file. He asked the magistrate for three weeks to include the outstanding statement. Magistrate Artiga agreed to three weeks and ordered disclosure of statements to the attorneys, once the file is completed.
The five men are expected to make their second court appearance on March 6.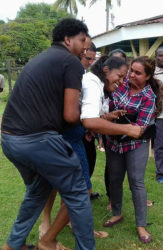 On February 8, Jagdeo, 36, of Lot 12 Section G, King's Street, Williamsburg Village, Corentyne, left his home before the crack of dawn to ply his trade as a phone card distributor. Jagdeo, who supplies phone cards to store owners on the entire Corentyne up to Crabwood Creek, was making a stop at a shop located on the main road of Adventure, Corentyne around 3:30 pm, when a man wearing a hat to hide his face entered. Jagdeo became suspicious and asked the shopkeeper if she knew the man. She said no and the man then whipped out a gun and fired a shot.
According to reports, a scuffle ensued between Jagdeo and the gunman, who shot him twice. The bandit then grabbed Jagdeo's bag and ran outside, where his accomplice, who wore a full face helmet, was waiting for him on the stolen motorcycle. The two men rode to Friendship, Corentyne, where they left the motorcycle and were then picked up by a silver-coloured car. The men then drove to Springlands, Corentyne but then turned around and proceeded back to Rose Hall Town.
Investigators in B Division, acting on information received, swiftly placed six persons in custody. However, one person who allegedly overheard the others planning the robbery is to testify on behalf of the state.
Commander of B Division, Ian Amsterdam, in a previous interview with Stabroek News had stated that investigators were able to place into custody the young man who the perpetrators would have sent to buy gasoline for the motorcycle they used to escape.
"Then we were able to get the person who got the false licence plate, CD 2125, made. We were able to get the person who had the motorcycle," he said, while noting that the motorcycle was stolen from a resident in Belvedere, Corentyne sometime on February 2. "After then what transpired is … one of the persons arrested would have overheard the others planning the robbery, who were the persons who committed the act, we eventually arrested all those persons," he noted.
Amsterdam had stated that the police also learned where the suspected weapon was hidden after the robbery. "After we had all the players in custody, we took one of the persons back to the residence, where the weapon was originally stashed, we went back to the same place and found it there," he said. The weapon found was a .32 snub-nose revolver. The police also have a silver-coloured car which is suspected to have been used to pick up the men from Friendship, Corentyne.
According to the autopsy, Jagdeo died due to shock and haemorrhaging. Two warheads were removed from Jagdeo's body during the autopsy.
Jagdeo was a father of two sons and two daughters. He was known as a hardworking and family-oriented man. His wife Mary Jagdeo along with his sister and other relatives and friends were present at the court yesterday. As the accused made their way to the court room, Jagdeo's wife broke into tears.
Comments

CARACAS/SAN CRISTOBAL, Venezuela,  (Reuters) – A wave of looting by hungry mobs across Venezuela has left streets of shuttered shops in provincial towns and pushed some store owners to arm themselves with guns and machetes, stirring fear that the turmoil could spread to the capital Caracas.

Taariq Stephens (New York Daily News photo) A Brooklyn man got a 41-year maximum prison sentence yesterday for killing a 16-year-old Guyanese girl who authorities said rejected his advances.

PRETORIA,  (Reuters) – Debutant Lungi Ngidi took six wickets as South Africa defeated India by 135 runs to claim victory in the second test in Pretoria today and also win the series with an unassailable 2-0 lead in the three-match contest.

(Trinidad Guardian) Environmental activist group Fishermen and Friends of the Sea (FFOS) has obtained an interim injunction barring the Government from continuing work on the first phase of the $400M Churchill Roosevelt Highway Extension to Manzanilla.

Three persons, including the widow of one of the two Pomeroon farmers shot dead on Sunday, have been taken into custody and police say one of them led detectives to the location of an arms cache that allegedly belonged to one of the deceased.