Manager of the Guyana Gold Board, Lisaveta Ramotar has been sent on administrative leave, with immediate effect, to facilitate the Guyana Police Force's investigation of allegations of money laundering, a letter she received yesterday stated.
"On April 19, 2017, I have received a request from the Guyana Police Force for further investigations to ensue and for several Gold Board Officers, including you, to be sent on leave to facilitate the conduct of the investigation," the letter, signed by Minister of Natural Resources Raphael Trotman," read.
"In the circumstances it has therefore been decided to send you on Administrative Leave, with immediate effect, to allow the police to complete their investigation. Further, you are expected to continue to cooperate with the investigating ranks in the conduct of the investigation," it added.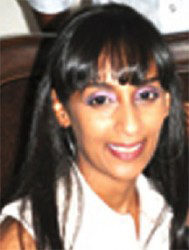 Ramotar was appointed General Manager in January of 2015.
Earlier this month, the Ministry of Natural Resources had stated that it had noted media reports on the charges of alleged bank fraud against licensed gold dealer Saddiqi Rafeek Mohamed Rasul and the alleged linkages with personnel at the Guyana Gold Board.
As consequence of the reports, the Ministry in a statement had said it will maintain vigilance over the operations of the Board and would assign the incoming Directors with the immediate task of probing this and related matters.
The probe will seek to determine whether anyone from the agency acted improperly or outside of their mandate in conducting business with Rasul.
The Ministry said it had also requested the Guyana Police Force to provide additional information and clarification with a view to aiding the probe.
Rasul had been charged on April 3rd of this year with defrauding a local commercial bank of a total of $956 million.
The owner of SSS Minerals Trading was released on $3 million bail for the six charges read to him, after he appeared before Chief Magistrate Ann McLennan in a Georgetown court. He has pleaded not guilty to all of the charges
It was alleged that between March 21 and March 22, at Bartica, with intent to defraud, Rasul obtained from the Guyana Bank for Trade and Industry $96 million, $290 million, $89 million, $45 million, $298 million and $138 million by falsely pretending that he had cash in a Citizens Bank account to honour corresponding Citizens Bank cheques.
The Special Organised Crime Unit is also carrying out investigations but an official said he could not comment because it was still an active investigation.
Ramotar,  the daughter of former President Donald Ramotar, declined to comment on the matter yesterday.
Her being sent on leave comes one week after her brother, Alvaro Ramotar, was also sent on administrative leave as his employer, the Guyana Water Inc, conducts a probe into a separate matter.
This newspaper understands that the Manager of the Unity Company's Data and Communication's unit is accused of having knowledge that a computer system at the GWI main office, in Georgetown, was infected with malware.
Comments

(Trinidad Guardian) Fifty five years after it was formed by legendary calypsonian Lord Kitchener, the Kalypso Revue tent is set to close due to financial constraints.

Finally honouring a court decision, the New Building Society (NBS) yesterday afternoon wrote a $59,033,000 cheque to former manager Maurice Arjoon for pension owed, after his lawyers attempted to levy on the assets of the bank, which then locked the doors of its Avenue of the Republic headquarters with customers and others inside.

A Diamond resident was yesterday remanded to prison after being charged with the death of Ishwar Ramanah, the Kaneville machine operator who was fatally shot during a robbery at his home last month.

A Sisters Village shop owner and his wife were seriously injured on Monday evening when they were attacked by cutlass-wielding bandits, who robbed them of the day's sales.

Although the Government of Guyana has paid more than $26 million for the Commission of Inquiry (CoI) into the education system, its final report has not been submitted after nearly two years.