Ahead of the upcoming opening of what he calls Giftland Mall's "new generation supermarket," company president Roy Beepat is confident that it would mark an evolution in shopping for Guyanese.
"It would make the other local supermarkets seem as if they belong in the last century," Beepat told Stabroek News, while noting that the Foodmaxx supermarket, which would be located on the ground floor, is about 50,000 sq ft and would offer the best prices in the country.
When the mall was opened at Plantation Pattensen, Turkeyen, East Coast Demerara, two years ago, the investment was said to be some US$30 million. Since then, he said, the "investment has been rising steadily" and has now climbed to approximately US$45 million."
For the first year, the mall had a total of 20 concessions but that has grown to over 70; six spaces are still available for rental.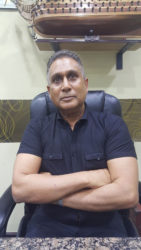 Beepat pointed out that the availability of the spaces was not as a result of them not receiving applications. "We have a lot of applications but we do not believe in just renting for the sake of renting. We need to make sure that the businesses are going to last, that they don't just come and open and then close," he said in an interview.
While he did not divulge the rate for renting, he said it was "competitive" with rates in Georgetown.
According to him, four businesses have closed their doors: Cool Blue and US Polo clothing stores; an electronic store, RCA and the Mediterranean restaurant, M 'Delight.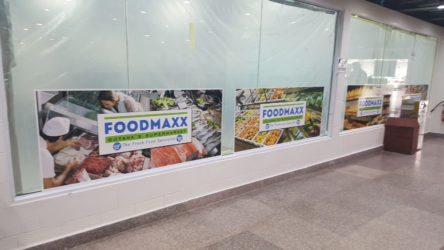 Stressing that businesses have to have a sense of the market, he said Cool Blue's clothing was not suitable for the mall, while US Polo stocked clothing that was "geared towards American college kids." In the case of RCA, he said the store did not have products available "at the time when the mall was really busy and everybody was doing business." As for M 'Delight, he said the owners have concentrated their efforts at their restaurant on Thomas Street, in Georgetown.
He said another business, a  roti shop, was also closed because it was not up to the high standards of the mall. He said Giftland takes standards "very seriously."
Beepat noted that it can be challenging "getting everybody on the same page where maintaining standards are concerned. In this country, standards have fallen over the years. Business is not all about making money…."
He gave credit to the concessionaires for reacting positively to this call and noted that they have been "up to scratch."
He noted that the businesses have been doing well and that the mall has generated enough returns for him to honour his obligations to the bank. "We have not missed any payments to the bank and for that we are thankful," he said.
During the opening of the mall in June 2015, Beepat had said it would give Guyanese somewhere to spend their leisure time.
Stabroek News observed that the cinemas, run by Caribbean Cinemas, and the food court still attract a number of people to the mall on weekends. Families have had to wait for tables to dine after purchasing food while many have had to leave the mall disappointed because the movie of their choice was sold out.
But surprisingly, those areas have not attracted the most traffic.
Beepat told this newspaper that the Giftland-branded stores account for close to 85 percent of the people going to the mall. Those stores, Sportsmaxx, Gifttronics and the stationery store, are the most popular.
"According to our people count, we had like three million traffic last year and we anticipate five million this year. And this is just visitors to the mall," Beepat told this newspaper.
The last of the mall's Midnight Madness sales, which are held occasionally from 8 pm to 11 pm, attracted 8,000 people, with 7,000 going to the Giftland stores, while the cinemas only got some 400 patrons.
"Giftland is where people [go] when they are looking for certain items and they are confident in finding the quality and the right prices. We've built that reputation," he said.
Aiming to provide everything under one roof, he said, the mall has a MoneyGram service and would soon have a Western Union outlet.
Among the other businesses at the location are the playground and video arcade, beauty salons, jewellery stores, boutiques, household and electronic stores, fine dining restaurants and a hookah lounge.
The mall is powered by two 2.5 megawatt generators that produce excess electricity and Beepat is awaiting the licenses from the Ministry of Public Infrastructure to start supplying electricity to the University of Guyana.
MovieTown Mall is set to open at Turkeyen, but the businessman said he is not at all concerned about the competition. He declared, "Competition is what drives everybody."
He found it strange that the proprietors of MovieTown are claiming that they have "spent that amount of money [the final cost is estimated at over US$45 million] but yet they do not have a power plant [nor] half of Giftland's retail space."
He also boasted that Giftland's supermarket would be better than what MovieTown would offer, and according to him, so would the cinemas and the shopping.
Currently, the Giftland Mall seems to be outgrowing its parking space and Beepat said they would look to provide more space. As he puts it: "Demand creates supply and certainly as the demand increases we would look to get more parking."
Speaking on the state of the economy, he opined that the "government is trying even though it is in a difficult situation," but it could "offer a little more concession to the productive sector."
Looking back under the previous government, he said, "We had a fake economy, it was artificial, it wasn't real. This government is trying to fix that."
Comments


The National Accreditation Council of Guyana (NAC) is advising the public that the American Medical Institution is not registered with the NAC as is legally required for post-secondary and tertiary educational institutions operating in Guyana.

Fifteen city councillors voted yesterday in favour of accepting the recommendations of the parking meter renegotiation committee, which would see a reduction in parking fees to $150 per hour, exemptions for religious organisations and schools, and Smart City Solutions (SCS) giving up on their claim to garage parking.

A GDF rank was yesterday remanded to prison over three armed robbery charges and alleged possession of an unlicensed gun and ammunition.
Minister of Natural Resources and Leader of the Alliance for Change (AFC), Raphael Trotman on Monday praised ExxonMobil for investing in the oil sector here and said it is now resulting in other important companies wanting to do business here.

The city lance corporal, who on Sunday allegedly shot and killed Marlon Fredericks, a mentally-challenged vendor, after he reportedly attempted to flee custody is to be charged with manslaughter.