With tears of joy, businessman Lawrence Wayne yesterday walked out of the High Court in Georgetown a free man after being acquitted of the murder of Dexter Lindo.
The jury unanimously found Wayne not guilty of the capital offence, and by a proportion of 11 to 1 not guilty of the lesser offence of manslaughter.
It is the second time that the businessman is being cleared of any culpability in Lindo's killing.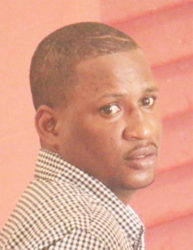 On October 16, 2015, he was discharged at the conclusion of a preliminary inquiry into the murder charge against him. Four months later, however, he was rearrested on the advice of the Director of Public Prosecutions, who ordered that the case be reopened.
The jury forewoman's announcement of the verdicts, after some three hours of deliberations, were met with applause from Wayne's anxious relatives, some of whom were moved to tears after his handcuffs were taken off.
Lindo's relatives, however, were vocal about their discontent with the result.
Justice Jo-Ann Barlow, who presided over the trial, told Wayne that he was free to go, but not before she cautioned him to stay away from trouble. "Sometimes trouble comes, but run far from it," she told him.
Wayne, a licensed firearm holder, was charged with murdering Lindo between August 23 and August 24, 2014, at Alberttown, Georgetown.
He has always maintained his innocence.
Lindo, according to police, had been one of two armed bandits who entered a stall at the Merriman Mall, Bourda. "Upon seeing the men, the female owner ran and raised an alarm and a licensed firearm holder responded," a police statement on the shooting said.
Lindo was subsequently shot and he succumbed to his injuries the following morning while receiving treatment at Dr. Balwant Singh's Hospital.
Wayne was represented by attorneys Stanley Moore and Maxwell McKay, while the state's case was led by Prosecutor Shawnette Austin, who called 20 witnesses to the stand.
Comments

One day after saying that there was not enough evidence for the administration to act, Town Clerk Royston King yesterday dismissed the constabulary officer who is accused of sexually abusing a juvenile in the custody of City Constabulary for misconduct.

Pork knocker Aubrey Bobb was yesterday charged with the murder of businessman Godfrey Scipio, who police say he fatally shot during a robbery last Thursday.

A mother of two is now homeless and nursing injuries at the Georgetown Public Hospital (GPH) after her partner attacked her and set their Da Silva Street house on fire.

Recaptured prison escapee Mark Royden Williams, called 'Smallie,' and Sherwin Nero, called 'Catty,' were yesterday both indicted for the 2007 murder of Kumar Singh, called 'Mango Man,' but their attorney, Nigel Hughes, urged that they be discharged due to the "long time" they have had to wait for a trial.

The National Agricultural Research and Extension Institute (NAREI) yesterday signed a contract with S&K Construction Services for $19.2M to improve river defences on the Essequibo coast.