Police are investigating an armed robbery committed on a Triumph, East Coast Demerara family on Friday evening, which saw an exchange of gunfire between a police patrol and the bandits, who managed to escape.
The ordeal began just after 10 pm on Friday at the home of Hariram Bishundat at Agriculture Road, Triumph, and had lasted for almost 20 minutes.
Speaking with this newspaper at this home yesterday afternoon, Bishundat explained that he was at home with several other members of his family when two men, both of whom were armed with what appeared to be a hand gun and a knife launched their attack.
The men, he said, were unable to get through the gate which resulted in them breaking a section of his wooden fence to gain access to the yard.
According to Bishundat, his son-in-law was sitting downstairs reading when he was confronted by the two men, one of whom pointed a gun at him.
After making enquiries about the other persons in the house, the men reportedly made their way to the kitchen where they encountered one of Bishundat's granddaughters, who was playing games on her tablet at that time. Upon seeing the men, the girl reportedly started yelling for her father but was ordered to stop by one of the men while his accomplice ran upstairs.
"They go to my son room, pull him out and ask where the gold and money deh and he seh he nah know, he nah know; is then the man tek the thing he had in he hand and lash me son across he face…" the man said.
Just then, Bishundat said, he and his wife got up to investigate what was going on in his house.
"Me come out and see them and tell them ayo tek everything wah ayo want and we go and lay down straight pon the ground, face down. Me nah look at them face because them gon know me know them and whatsoever and me try to avoid that," Bishundat added.
While they lay on the ground, one of the bandits took Bishundat's granddaughter and son-in-law upstairs and tied them up.
Meanwhile, another granddaughter, who had avoided detection by hiding in the downstairs bathroom, was able to sneak out and grab a phone. She then started making calls to neighbours asking for help, while the bandits tormented her family upstairs.
Meantime, Bishundat said, the men started cutting wires from everything they could find in the house and using them to bind their hands and feet, before proceeding to ransack the house.
As they were leaving, the bandits were confronted by ranks of a mobile patrol who were minutes earlier alerted to the robbery-in-progress and promptly responded. There was an exchange of gunfire, but the robbers escaped.
Bishundat related: "And then all wah me hear is one ah them tell the other that police deh pon the road and the vehicle that was outside waiting on them tell them that de police outside. They lef the house but they couldn't run out through the front so they run through the back and get away.
"But nah lang after dat we hear gunshot. De people round here tell we that when de police reach they see de car outside and that somebody inside the car shoot at the police and mek them back off and the car drive way… Then we hear two more shots which they tell we come from the police after the car start drive away," he added.
The men were reportedly able to escape with gold jewellery and electronic gadgets, Bishundat said before adding this was the first time the family suffered an ordeal of this nature.
Comments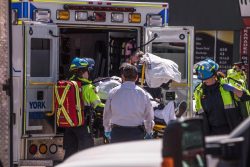 TORONTO,  (Reuters) – A driver plowed his white Ryder rental van into a crowd, killing nine people and injuring 16 along a roughly mile-long stretch of busy Toronto sidewalk during lunch hour on a sunny Monday afternoon, police said.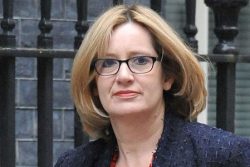 LONDON, (Reuters) – Britain will compensate some Caribbean immigrants who have lived legally in Britain for decades and have wrongly been labelled illegal immigrants because of trouble documenting their status, interior minister Amber Rudd said today.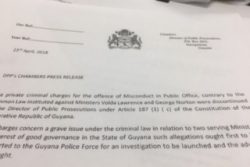 The private criminal charges instituted by two PPP/C MPs against Minister of Public Health Volda Lawrence and the former minister in the ministry, Minister George Norton have been discontinued by the Director of Public Prosecutions (DPP), Shalimar Ali-Hack.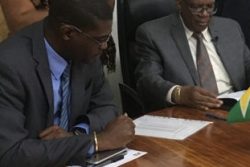 Private criminal charges have been filed against three more Ministers of Government, this time over the D'Urban Park project.