The inability of LIAT to pay its airport service fees over the past few months has caused the Eugene F Correia (EFC) International Airport at Ogle to move to collect its fees directly from passengers travelling with the Antigua-based airline.
This was made public yesterday via a notice placed in the Stabroek News which read, "As of Saturday, July 1, 2017, the Eugene F. Correia International Airport will be reverting to the collection of the airport service fee directly at the airport for LIAT passengers.
"This has become necessary as a result of LIAT'S inability to pay the service fee to the airport. We regret any inconvenience caused."
Spokesman for the EFC Kit Nascimento, in an invited comment, explained that the issue of LIAT's inability to pay its fees has been a longstanding one.
Asked about the explanation given by LIAT for its lapse in payments, Nascimento related that the airline has been silent on the issue; thus the airport has taken a decision to collect the fees directly from the passengers.
"We are a commercial airport and we cannot continue to extend credit on these items. We, of course, had a number exchanges with LIAT's Chief Executive Officer and we have also spoken formally with the Government of Guyana about the issue but we had to take this step in order to at least guarantee that we get an important part of our income," Nascimento added.
Attempts to contact LIAT for a comment were unsuccessful as several phone calls went unanswered.
Comments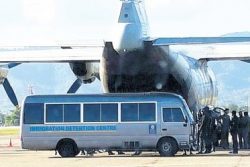 (Trinidad Guardian) A Venezuelan military aircraft landed at Piarco International Airport yesterday to take back 82 nationals to their homeland.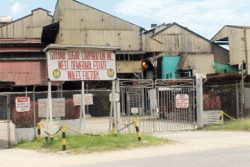 Three companies, including two regional conglomerates, have expressed interest in taking over the shuttered Wales, West Bank Demerara sugar estate in a deal that is expected to see the development of significant agro-processing operations here.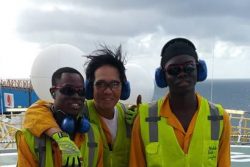 Twenty-three Guyanese, including a doctor, have been working on a drill ship contracted to ExxonMobil for oil operations and yesterday the company flew seven journalists to the site for a firsthand look at operations.
In the first public exercise of its powers, the Local Government Commission (LGC) has instructed the Rose Hall Town Council to rescind its recent hiring of a Town Clerk, while saying that it exceeded the authority given to it to recruit candidates for the post.