Insisting that he has done nothing wrong, PPP/C Member of Parliament Dharamkumar Seeraj yesterday said the revocation of his US visa has left him confused and questioning its timing.
Seeraj, while voicing concern that this has painted the impression that he has committed a criminal act, expressed hope that the Consular Section of the US Embassy in Georgetown would provide the clarification that he is seeking through his attorney.
He could not say definitively yesterday if his attorney had dispatched a letter requesting the "new information", the Embassy said it was in possession of which had led to the revocation of his non-immigrant visa.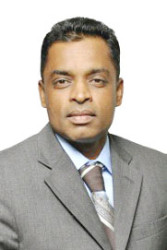 According to Seeraj, who is General Secretary of the Rice Producers Association, he had this type of visa for at least two decades with his last being issued in 2009. He said he mostly used the visa for official trips and from time to time would visit his relatives who reside in the US.
He received a letter from the Consular Section in his mail last Thursday. The letter, which was seen by this newspaper, is dated June 7, 2017.
According to the letter, acting pursuant to the authority contained in the Department of State regulations 22 CFR 41, 122, the non-immigrant visa issued on January 15, 2009 "has been revoked".
The letter states that "additional information became available after the visa was issued, which renders you no longer qualified for the visa". It goes on to advise Seeraj that at the earliest opportunity he should present his passport at the Consular Section of the US Embassy in Georgetown to have the visa "physically cancelled".
He was also informed that airlines and immigration authorities have been informed of the revocation and as a result he will not be boarded on any flight destined to the United States of America.
Seeraj after receiving the letter realized that most of those charged recently with him also had their visas revoked.
"I came to the conclusion logically since they received similar letters with a similar date—the only thing in common—that that is the reason," he told Sunday Stabroek, while stressing that he and his co accused have not been charged with misappropriation of money but rather failing to make an entry which is a clerical function that is not undertaken by a member of the Guyana Rice Development Board (GRDB).
Following an investigation conducted by the Special Organized Crime Unit (SOCU) based on a forensic audit into the operations of the GRDB, Seeraj along with Jagnarine Singh, former GRDB General Manager; Prema Roopnarine, former Deputy Permanent Secre-tary for the Ministry of Agriculture; Ricky Ramraj, agricultural consultant; Badrie Persaud, business consultant and Nigel Dharamlall, a PPP MP were charged on May 19. They appeared before Chief Magistrate Ann McLennan.
They were charged with failing to record entries for funds amounting to over $250 million in total in the agency's general ledger.
Seeraj told this newspaper that both the Guyana and the US constitutions speak about the presumption of innocence. He said that this is an accepted universal principle.
"I am surprised they will sanction a legislator in any country on a clerical charge. That increased my confusion and profound surprise…You need to know why there was a revocation. I think the reason given was too vague and then the similarities," he said.
He said he can confirm that all of his co-accused with the exception of Ramraj have received letters.
"The revocation… the act in itself is not of a major concern to me but the significance of the act," he said, before stressing that he has relatives residing in the US and does not have a business there or any form of income from comes from there.
He pointed out that the revocation of one's visa can be demeaning and criminalizing in the eyes of ordinary people. "People have called me and people seem to think they [the embassy] revoke the visa because of criminality or some terrorism action. It can stain your character," he said.
According to Seeraj, revocation speaks to involvement in terrorism, criminality, imposition and immigration and should not be associated with a charge for failing to make entry into ledger. "In eyes of some you are seem as a criminal," he said.
He said that while he is hoping for an explanation from the embassy he is not confident that one will be forthcoming since "it would appear the employees there operate in strange way."
Seeraj stated that he was unable to visit the Embassy as requested as he had to attend Parliament. He gave all assurances that when time is available he will go to have the visa physically cancelled.
"I am concerned at timing and why it was done. They are treating me like a criminal even though I pleaded not guilty to the charge," he said.
The PPP in a press release last Thursday had said it will pursue the matter as far as is possible.
Comments

HARARE, Zimbabwe, CMC – West Indies received a rousing welcome at the Robert Gabriel Mugabe International Airport here Sunday evening as they became the first team to arrive for the ICC World Cup Qualifiers starting next month.
A corporal of the Joint Services and another male  have been taken into custody following an investigation into the alleged robbery under arms committed on a 43-year-old Chief Prison Officer which occurred about 01:00h yesterday on the  Soesdyke Public Road, EBD by four males, one of whom was armed with a knife.

(Trinidad Guardian) Networks of the ISIS cell in T&T which Prime Minister Dr Keith Rowley referred to in Parliament are spread from Aranjuez, Charlieville and Enterprise to Rio Claro among other locations, a national security official has said.

Government yesterday released the Production Sharing Agreement (PSA) signed by the former Donald Ramotarled PPP/C administration with Canadian miner CGX Resources Inc, the terms of which appear to be almost identical to those of the much maligned 2016 agreement signed by the current administration with ExxonMobil's local subsidiary and its partners.

Seeking advances on future revenue from ExxonMobil should be under discussion, according to United States-based Guyanese business professor and accountant Floyd Haynes, who says the benefits for a developing nation like ours are incalculable and can outweigh the disadvantages "I think it should be considered.