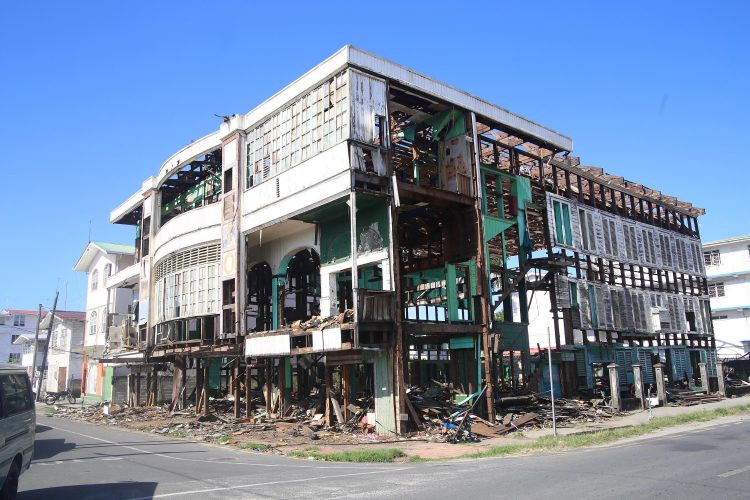 The Mayor and City Council has instructed the new owners of the Astor Cinema building to halt demolition until they put safety measures in place to protect both workers and members of the public.
City Engineer Colvern Venture told Stabroek News that his office was forced to write the owners after permission was not sought for the demolition. He added that the new owners, who also own the Discount Store on Regent Street, subsequently applied to demolish the building and the application was approved. Venture said the application was fast-tracked, since just the structural frame is standing and it poses a risk to passersby.
However, he explained that his office has recommended that safety measures be put in place to protect workers and members of the public before demolition continues.
Stabroek News understands that the council had also instructed the owners to remove debris that was placed on the public road since it is a hazard to road users.
No work was being carried out at the site yesterday and loads of debris were awaiting removal.
It is unclear when the demolition would resume and efforts to contact the owners were unsuccessful.
In the last week of July, workers began to dismantle the building. The once popular Astor Cinema had been abandoned since its closure in April, 2013. It was the last city cinema to close its doors. The Globe, Empire, Metropole, Plaza and Strand cinemas, all in central Georgetown had long been out of commission along with the Star in Albouystown, and Hollywood and Liberty in the Kitty area.
Comments

THE HAGUE, (Reuters) – A U.N. tribunal today convicted former Bosnian Serb military commander Ratko Mladic of genocide and crimes against humanity for orchestrating massacres and ethnic cleansing during Bosnia's war and sentenced him to life in prison.

Chinese companies yesterday dominated the submission of tenders to prequalify for the financing, designing and building of the new Demerara River Bridge.

Coen Jackson, the Bishops' High School teacher accused of sexually grooming and preying on female students, yesterday denied the allegations levelled against him, while charging that the complaint now being investigated by the Education Ministry stemmed from a personal grudge.

In restructuring its sugar industry, Guyana has the advantage of being able to learn from the mistakes and successes of those Caribbean territories that have already completed the process, according to consultant Sharma Lalla.

A city magistrate yesterday cleared former Roraima Airways baggage handler Kennard De Jonge of a conspiracy to traffic narcotics charge.