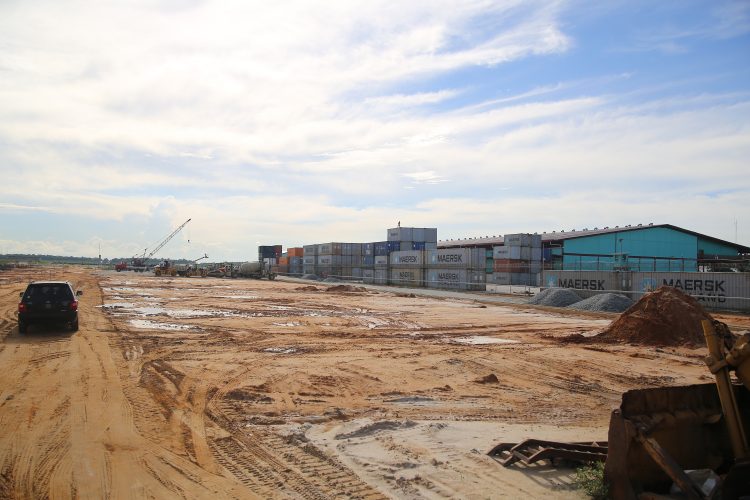 ExxonMobil yesterday signed a deal with Guyana Shore Base Inc (GYSBI) for an onshore support facility at Houston on the East Bank of Demerara.
There was no official announcement yesterday of the signing. The clinching of the multi-year deal is expected to see the largest purchase to date of local services since the US multi-national began planning for oil production from its Liza well.
GYSBI is a consortium comprising Muneshwers Limited, TOTALTEC Oilfield Services, Pacific Rim Constructors and LED Offshore.
Last month, GYSBI announced that it is scheduled to complete its 28-acre onshore base at Houston to meet the needs of United States oil company ExxonMobil by March of next year.
When it is finished, it will see about 100 persons being employed for a range of jobs. As Guyana prepares for oil production in 2020, the company hopes to have a fully functional state-of-the-art onshore base to meet Exxon's needs.
In June, GYSBI beat out John Fernandes Limited to provide shore-based services to Exxon.
The company had been developing the port facility at Houston since last year and invested over US$10 million to capitalise on Guyana's developing oil and gas industry.
"Essentially, what we want to be is a one-stop shop for the supply vessel. When the vessel comes from the rig and it comes here, it must be able to satisfy all its needs, get its pipes, its fuel, its oil, its water, the powder plant, the mud plant. You know? They come here, they get everything done and they go back," Robin Muneshwer, the company's Country Manager had told Stabroek News during a tour last year, when it started works.
Muneshwers Limited purchased the 28-acre property from timber company, Caribbean Resources Limited, in 2014, for US$20 million.
Comments

An outgoing passenger at the Cheddi Jagan International Airport, Timehri was last night caught attempting to smuggle just over 60 ounces of raw gold which was concealed in her suitcase, acting Police Commission David Ramnarine has confirmed.

Significant damage was recorded in the south of Dominica, as seen in this photo.

President David Granger yesterday called on the international community to ensure that Venezuela is not allowed to thwart the processes of judicial settlement of a long-running border controversy with Guyana.
The $550 million Doppler Weather Radar Monitoring Station, which was commissioned in 2009 with the intention of giving citizens ample warning of severe weather conditions, has been down for two weeks and the Hydrometeorologi-cal Service is waiting to procure a needed part from Germany so that it can be fixed, according to a source.

A Guyanese man who murdered his wife last December on a Richmond Hill, New York  street, nearly decapitating her with a kitchen knife, has been sentenced to 21 years in prison, prosecutors said yesterday.