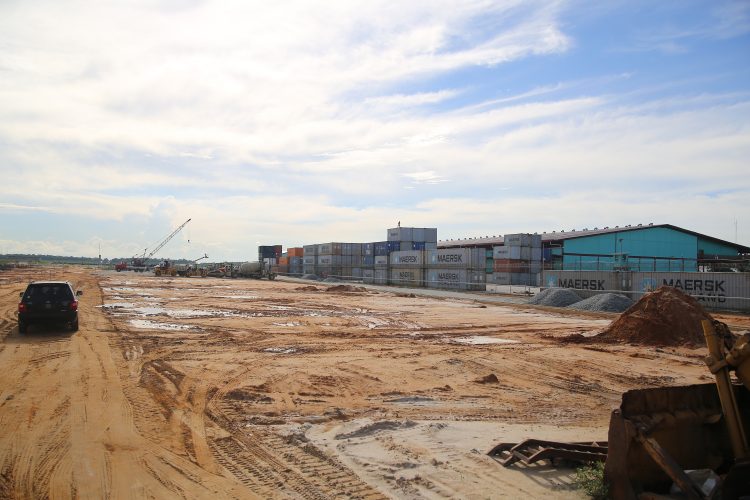 ExxonMobil yesterday signed a deal with Guyana Shore Base Inc (GYSBI) for an onshore support facility at Houston on the East Bank of Demerara.
There was no official announcement yesterday of the signing. The clinching of the multi-year deal is expected to see the largest purchase to date of local services since the US multi-national began planning for oil production from its Liza well.
GYSBI is a consortium comprising Muneshwers Limited, TOTALTEC Oilfield Services, Pacific Rim Constructors and LED Offshore.
Last month, GYSBI announced that it is scheduled to complete its 28-acre onshore base at Houston to meet the needs of United States oil company ExxonMobil by March of next year.
When it is finished, it will see about 100 persons being employed for a range of jobs. As Guyana prepares for oil production in 2020, the company hopes to have a fully functional state-of-the-art onshore base to meet Exxon's needs.
In June, GYSBI beat out John Fernandes Limited to provide shore-based services to Exxon.
The company had been developing the port facility at Houston since last year and invested over US$10 million to capitalise on Guyana's developing oil and gas industry.
"Essentially, what we want to be is a one-stop shop for the supply vessel. When the vessel comes from the rig and it comes here, it must be able to satisfy all its needs, get its pipes, its fuel, its oil, its water, the powder plant, the mud plant. You know? They come here, they get everything done and they go back," Robin Muneshwer, the company's Country Manager had told Stabroek News during a tour last year, when it started works.
Muneshwers Limited purchased the 28-acre property from timber company, Caribbean Resources Limited, in 2014, for US$20 million.
Comments

Despite the AFC's claim that it was not involved in the selection of a Guyana Elections Commission (Gecom) Chairman, its two senior leaders, Khemraj Ramjattan and Raphael Trotman, had advised President David Granger that he could utilise the constitutional proviso and make a unilateral appointment.

The National Assembly last evening approved over $8 billion in total budgetary allocations for 16 constitutional agencies even as the government's failure to properly account for cuts to requested expenditure drew criticism.

Opposition MPs were yesterday reprimanded by Speaker Dr Barton Scotland for their raucous behaviour on November 2nd, when they staged a protest that drowned out most of President David Granger's address to the National Assembly.

Ex-policeman Lloyd Roberts, who was accused of murdering Ryan Sergeant, the teen who was fatally shot outside of the Rio Inn nightclub last year, was yesterday freed after a court found that there was insufficient evidence for him to stand trial.

Although some municipal workers continued protest action yesterday over the nonpayment of their salaries for October, the Mayor and City Council (M&CC) has said that it has completed its payroll.