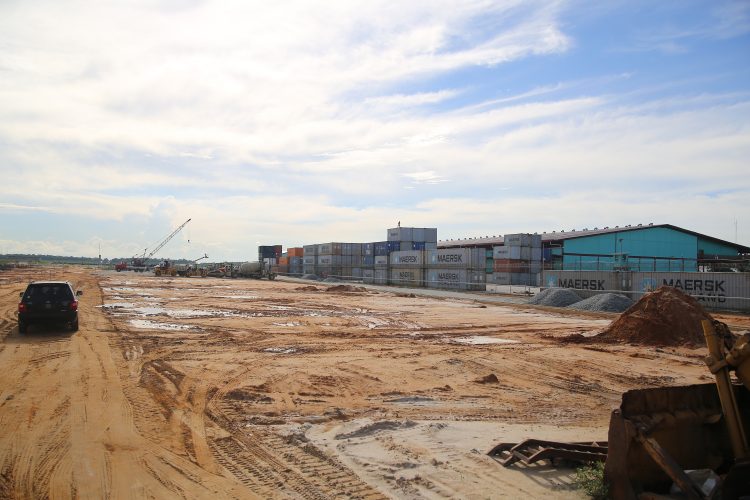 ExxonMobil yesterday signed a deal with Guyana Shore Base Inc (GYSBI) for an onshore support facility at Houston on the East Bank of Demerara.
There was no official announcement yesterday of the signing. The clinching of the multi-year deal is expected to see the largest purchase to date of local services since the US multi-national began planning for oil production from its Liza well.
GYSBI is a consortium comprising Muneshwers Limited, TOTALTEC Oilfield Services, Pacific Rim Constructors and LED Offshore.
Last month, GYSBI announced that it is scheduled to complete its 28-acre onshore base at Houston to meet the needs of United States oil company ExxonMobil by March of next year.
When it is finished, it will see about 100 persons being employed for a range of jobs. As Guyana prepares for oil production in 2020, the company hopes to have a fully functional state-of-the-art onshore base to meet Exxon's needs.
In June, GYSBI beat out John Fernandes Limited to provide shore-based services to Exxon.
The company had been developing the port facility at Houston since last year and invested over US$10 million to capitalise on Guyana's developing oil and gas industry.
"Essentially, what we want to be is a one-stop shop for the supply vessel. When the vessel comes from the rig and it comes here, it must be able to satisfy all its needs, get its pipes, its fuel, its oil, its water, the powder plant, the mud plant. You know? They come here, they get everything done and they go back," Robin Muneshwer, the company's Country Manager had told Stabroek News during a tour last year, when it started works.
Muneshwers Limited purchased the 28-acre property from timber company, Caribbean Resources Limited, in 2014, for US$20 million.
Comments

The legal team for former New Building Society (NBS) manager, Maurice Arjoon, who was wrongfully dismissed, have levied on the bank's assets in a bid to recoup the $59,033,000 pension owed to him by the financial institution.
An alleged inebriated farmer of 54 Strath Campbell Village, Mahaicony, ECD, died at about 3 pm  yesterday at Chance Village, Mahaicony, after a vehicle he was reportedly not given permission to drive, crashed into a utility pole.

MELBOURNE,  (Reuters) – Rafa Nadal's Australian Open quarter-final curse struck again on Tuesday, an injury forcing the top seed to retire in the fifth set against Croatia's Marin Cilic.

Several hundred more sugar workers are expected to be laid off from the Skeldon, Rose Hall, and East Demerara estates by next month and the Guyana Agricultural and General Workers Union (GAWU) yesterday urged that the decision be reviewed.

The commencement order establishing the Telecommunications Agency was signed last Friday, in anticipation of the liberalisation of the telecoms sector, Minister of Public Tele-communications Cathy Hughes announced yesterday.