A second businessman has been taken into custody as part of the continuing investigation into the discovery of the illegal airstrip and aircraft found earlier this month close to Santa Fe, in Region Nine.
In addition, heavy duty equipment belonging to both persons in custody has also been impounded.
Among the duo is a contractor from Region Nine, who was arrested on Monday by ranks from the Lethem Police Station. A front end loader belonging to him was also impounded. It is suspected that the equipment may have been used in the construction of the airstrip. The second person held is a businessman.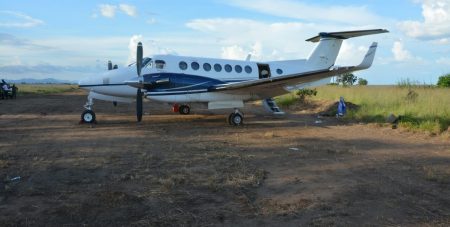 A security source yesterday told Stabroek News that the two men were flown out from Lethem on Thursday and were taken to the Criminal Investigation Department (CID) at Eve Leary in Georgetown, where they are being questioned by detectives. "One of them allegedly contracted the other to prepare the airstrip with a grader to facilitate the landing of the aircraft," the source revealed.
Police have been granted permission by the High Court to further detain the two men.
On August 14, the Guyana Police Force reported the seizure of the twin-engine Beechcraft, which followed almost a month of reports of a foreign aircraft frequenting the Santa Fe, North Rupununi area. The aircraft was flown out of the Rupununi and landed at the Cheddi Jagan International Airport, Timehri, where it was handed over to the security forces.
According to the police, a quantity of dry rations, medical supplies, gents clothing and footwear, two hand-held radios, flashlights, cellular phones and an identification card were among the items found on the aircraft.
Stabroek News was told that the aircraft was in the process of being sold. Sources had said that the plane, bearing registration number, PR-IMG was linked to Riwa S.A Incorporacoes, Investimentos e Participacoes, a Brazilian company on lease from Banco Bradesco. Bradesco, is one of the biggest banking companies in Brazil.
Comments

THE HAGUE, (Reuters) – A U.N. tribunal today convicted former Bosnian Serb military commander Ratko Mladic of genocide and crimes against humanity for orchestrating massacres and ethnic cleansing during Bosnia's war and sentenced him to life in prison.

Chinese companies yesterday dominated the submission of tenders to prequalify for the financing, designing and building of the new Demerara River Bridge.

Coen Jackson, the Bishops' High School teacher accused of sexually grooming and preying on female students, yesterday denied the allegations levelled against him, while charging that the complaint now being investigated by the Education Ministry stemmed from a personal grudge.

In restructuring its sugar industry, Guyana has the advantage of being able to learn from the mistakes and successes of those Caribbean territories that have already completed the process, according to consultant Sharma Lalla.

A city magistrate yesterday cleared former Roraima Airways baggage handler Kennard De Jonge of a conspiracy to traffic narcotics charge.