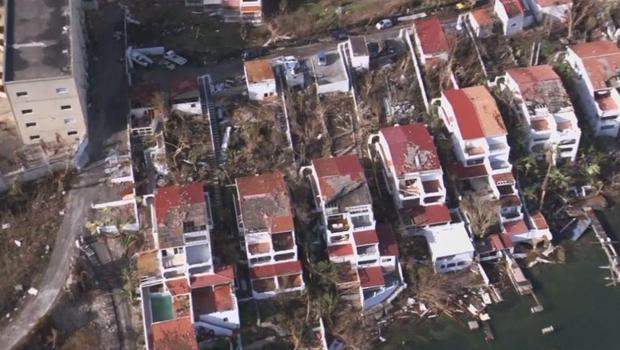 AMSTERDAM,  (Reuters) – Nearly a third of all buildings on the Dutch half of the Caribbean island of Saint Martin were destroyed and more than 90 percent damaged by Hurricane Irma, the Dutch Red Cross said on Tuesday.
The aid agency had surveyed 5,500 structures before the storm and made an assessment based on photographs provided by the Defence Ministry in the Netherlands.
Caretaker Dutch Prime Minister Mark Rutte had said on Sunday an estimated 70 percent of buildings were damaged or destroyed.
"The damage on St. Martin is greater than previously thought," the Red Cross said in a statement. "In addition to distributing food and water, the Red Cross is going to ramp up emergency shelter."
Extra search and rescue experts were also heading to the Dutch territory, where the Red Cross said 200 people were registered as missing.
A flight with tarpaulins, tents, soap and other supplies would leave on Wednesday, after more than 3 million euros ($3.6 million) was donated in the Netherlands.
The Red Cross said it would use drones to monitor the needs of the population on the island, an independent nation within the Kingdom of the Netherlands with a population of around 40,000.
Irma killed four people and injured dozens on the Dutch side of the island. The remainder of the island is administered by France.
A special funding drive will be held by major national broadcasters on Friday to collect donations for emergency aid and reconstruction.
The French Interior Ministry has said Irma killed at least 10 people on the islands of Saint Martin and Saint Barthelemy. Saint Barthelemy lies about 35 km southeast of Saint Martin.
Comments

On Friday, the Ministry of Foreign Affairs concluded a five-day orientation programme for newly recruited Foreign Service Officers (FSOs), which was held at the Roraima Duke Lodge in Kingston.

HARARE,  (Reuters) – Robert Mugabe resigned as Zimbabwe's president on Tuesday a week after the army and his former political allies moved against him, ending four decades of rule by a man who turned from independence hero to archetypal African strongman.

Travis Cleveland c/d 'Spin and Kill', 31 years , unemployed of 337 South Sophia has been charged with murder of Jamal Munroe which occurred on November 03, 2017 at Black and White Bridge, 'C' Field, Sophia, ECD, the police say.

YANGON/NAYPYITAW, (Reuters) – Members of the U.S. Congress said today operations carried out against the Rohingya Muslims in Myanmar had "all the hallmarks" of ethnic cleansing, while the country's leader Aung San Suu Kyi expressed doubts about allegations of rights abuses.

The leadership of the Alliance For Change (AFC) is to formally write A Partnership for National Unity (APNU) on a revision of the Cummingsburg Accord which birthed the coalition and saw it winning the 2015 general elections.