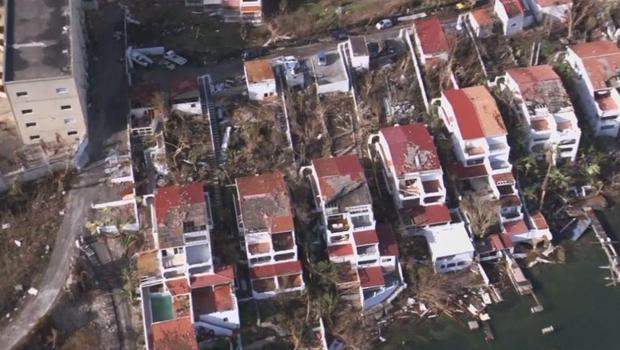 AMSTERDAM,  (Reuters) – Nearly a third of all buildings on the Dutch half of the Caribbean island of Saint Martin were destroyed and more than 90 percent damaged by Hurricane Irma, the Dutch Red Cross said on Tuesday.
The aid agency had surveyed 5,500 structures before the storm and made an assessment based on photographs provided by the Defence Ministry in the Netherlands.
Caretaker Dutch Prime Minister Mark Rutte had said on Sunday an estimated 70 percent of buildings were damaged or destroyed.
"The damage on St. Martin is greater than previously thought," the Red Cross said in a statement. "In addition to distributing food and water, the Red Cross is going to ramp up emergency shelter."
Extra search and rescue experts were also heading to the Dutch territory, where the Red Cross said 200 people were registered as missing.
A flight with tarpaulins, tents, soap and other supplies would leave on Wednesday, after more than 3 million euros ($3.6 million) was donated in the Netherlands.
The Red Cross said it would use drones to monitor the needs of the population on the island, an independent nation within the Kingdom of the Netherlands with a population of around 40,000.
Irma killed four people and injured dozens on the Dutch side of the island. The remainder of the island is administered by France.
A special funding drive will be held by major national broadcasters on Friday to collect donations for emergency aid and reconstruction.
The French Interior Ministry has said Irma killed at least 10 people on the islands of Saint Martin and Saint Barthelemy. Saint Barthelemy lies about 35 km southeast of Saint Martin.
Comments

The Customs Anti-Narcotic Unit (CANU) today said that Tiffini Collison, 26-years-old of F 21 Samaan Street Guyhoc Park, Georgetown posted four hammocks suspected to have been saturated with cocaine to an address in the USA through an International Courier Service in Georgetown sometime last week.

President David Granger (centre) today met  President of Chevron Africa and Latin America Exploration and Production Company,  Clay Neff (third from right).

Anthony Weiner   NEW YORK,  (Reuters) – Former U.S. Congressman Anthony Weiner was sentenced to 21 months in prison today for sending sexually explicit messages to a 15-year-old girl, setting off a scandal that played a role in the 2016 U.S.

A family's preparation for a memorial service ended tragically early yesterday morning when bandits stormed into their home in  East La Penitence and discharged several rounds, fatally wounding a man and injuring two of his brothers.

(Trinidad Express) The Trinidad and Tobago Defence Force and Coast Guard have been at the helm of a dramatic rescue of a family of four, including two small children, who lived in a car for four days after their home in Dominica was destroyed last Monday by Hurricane Maria.