Attorney Sanjeev Datadin, the local attorney for US-based Guyanese murder accused Marcus Bisram, is set to move to have the charge in Guyana quashed based on the alleged recanting of a statement by a main prosecution witness.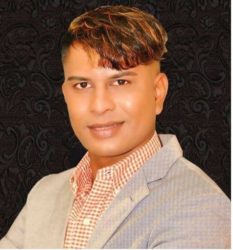 Bisram is facing extradition from the US to Guyana, where he has been named a co-defendant in the murder of Number 70 Village carpenter Faiyaz Narinedatt.
The move to quash the charge was revealed in a letter sent to US Judge Peggy Kuo by Bisram's US lawyer Mario F. Gallucci in a successful bid to have yesterday's status conference in the extradition case postponed.
According to the letter, there have been developments in Bisram's case in Guyana, with the most notable being a "complete recantation in court of the main witness against Mr. Bisram…." The letter, seen by this newspaper, said that Datadin is moving have the matter against Bisram quashed and if that is successful then it may effectively end the need for extradition.
The lawyer then requested that yesterday's matter be postponed since the matter in Guyana has been adjourned to September 21st.
The judge has set the status conference for September 26th.
Bisram is behind bars in the US following his arrest on July 4 in New York pursuant to a warrant issued by Magistrate Judge James C Francis IV on June 16.
Bisram, police have alleged, procured and commanded Orlando Dickie, Radesh Motie, Diodath Datt, Harri Paul Parsram, and Niran Yacoob to murder Narinedatt between October 31 and November 1, 2016, at Number 70 Village, Berbice. A preliminary inquiry into the murder charge against them is ongoing.
Comments

WASHINGTON,  (Reuters) – A former senior official in Donald Trump's 2016 presidential campaign, Rick Gates, pleaded guilty today to conspiracy against the United States and lying to investigators, and is cooperating with a federal probe into Russia's role in the election.

(Trinidad Guardian)  "Dwight, I forgive you." So stated reigning Chutney Soca Monarch Neval Chatelal in an open letter to former T&T and Manchester United striker Dwight Yorke yesterday, following the repayment of a $250,000 loan.

The controversial Production Sharing Agreement (PSA) signed between the government and ExxonMobil's local subsidiary and partners is final and will not be subject to any changes, Minister of State Joseph Harmon said yesterday.

General Manager Holly Greaves yesterday said the National Insurance Scheme (NIS) is re-examining its investment in the Berbice Bridge after dismal returns over the past few years.
A gunman yesterday afternoon shot and robbed a senior CARICOM Secreta-riat employee after he left the Republic Bank (Guyana) Limited branch at Triumph, East Coast Demerara (ECD), in what is the most recent attack on the bank's customers.