Attorney Sanjeev Datadin, the local attorney for US-based Guyanese murder accused Marcus Bisram, is set to move to have the charge in Guyana quashed based on the alleged recanting of a statement by a main prosecution witness.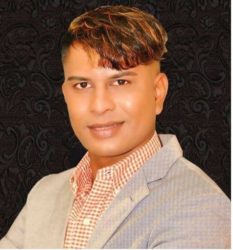 Bisram is facing extradition from the US to Guyana, where he has been named a co-defendant in the murder of Number 70 Village carpenter Faiyaz Narinedatt.
The move to quash the charge was revealed in a letter sent to US Judge Peggy Kuo by Bisram's US lawyer Mario F. Gallucci in a successful bid to have yesterday's status conference in the extradition case postponed.
According to the letter, there have been developments in Bisram's case in Guyana, with the most notable being a "complete recantation in court of the main witness against Mr. Bisram…." The letter, seen by this newspaper, said that Datadin is moving have the matter against Bisram quashed and if that is successful then it may effectively end the need for extradition.
The lawyer then requested that yesterday's matter be postponed since the matter in Guyana has been adjourned to September 21st.
The judge has set the status conference for September 26th.
Bisram is behind bars in the US following his arrest on July 4 in New York pursuant to a warrant issued by Magistrate Judge James C Francis IV on June 16.
Bisram, police have alleged, procured and commanded Orlando Dickie, Radesh Motie, Diodath Datt, Harri Paul Parsram, and Niran Yacoob to murder Narinedatt between October 31 and November 1, 2016, at Number 70 Village, Berbice. A preliminary inquiry into the murder charge against them is ongoing.
Comments

On Friday, the Ministry of Foreign Affairs concluded a five-day orientation programme for newly recruited Foreign Service Officers (FSOs), which was held at the Roraima Duke Lodge in Kingston.

HARARE,  (Reuters) – Robert Mugabe resigned as Zimbabwe's president on Tuesday a week after the army and his former political allies moved against him, ending four decades of rule by a man who turned from independence hero to archetypal African strongman.

Travis Cleveland c/d 'Spin and Kill', 31 years , unemployed of 337 South Sophia has been charged with murder of Jamal Munroe which occurred on November 03, 2017 at Black and White Bridge, 'C' Field, Sophia, ECD, the police say.

YANGON/NAYPYITAW, (Reuters) – Members of the U.S. Congress said today operations carried out against the Rohingya Muslims in Myanmar had "all the hallmarks" of ethnic cleansing, while the country's leader Aung San Suu Kyi expressed doubts about allegations of rights abuses.

The leadership of the Alliance For Change (AFC) is to formally write A Partnership for National Unity (APNU) on a revision of the Cummingsburg Accord which birthed the coalition and saw it winning the 2015 general elections.