A Norton Street grandfather was yesterday sentenced to four years imprisonment and fined $30,000 after admitting to possession of narcotics when he appeared before Magistrate Judy Latchman.
Stanley Pile, 59, of Norton Street, pleaded guilty to a charge which stated that he had in his possession 34.048 kilogrammes of marijuana for the purpose of trafficking.
Customs Anti-Narcotic Unit (CANU) Prosecutor Konyo Sandiford in presenting the facts to the court said that on Sunday, CANU officers went to Pile's home at Camp and Norton streets, where they conducted a search.
Sandiford said that while searching the upper flat of the home, in a "makeshift room," the CANU officers found three cartons and two barrels containing concealed packages of leaves, seeds and stems.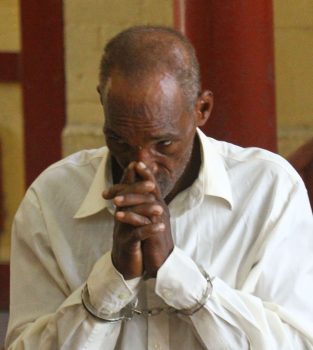 The prosecutor related to the court that Pile, the only person at home at the time, was cautioned upon the discovery but he remained silent. At CANU headquarters, Pile reportedly took ownership of the narcotics which had been found. He told the officers that he had been given the drugs "by someone from over the river."
Pile, before the sentence was handed down, asked for the court to be lenient with him since he is a father of seven and grandfather of five, and has small children.
The court was also informed by Sandiford that investigations are ongoing in relation to another suspect.
Comments

The legal team for former New Building Society (NBS) manager, Maurice Arjoon, who was wrongfully dismissed, have levied on the bank's assets in a bid to recoup the $59,033,000 pension owed to him by the financial institution.
An alleged inebriated farmer of 54 Strath Campbell Village, Mahaicony, ECD, died at about 3 pm  yesterday at Chance Village, Mahaicony, after a vehicle he was reportedly not given permission to drive, crashed into a utility pole.

MELBOURNE,  (Reuters) – Rafa Nadal's Australian Open quarter-final curse struck again on Tuesday, an injury forcing the top seed to retire in the fifth set against Croatia's Marin Cilic.

Several hundred more sugar workers are expected to be laid off from the Skeldon, Rose Hall, and East Demerara estates by next month and the Guyana Agricultural and General Workers Union (GAWU) yesterday urged that the decision be reviewed.

The commencement order establishing the Telecommunications Agency was signed last Friday, in anticipation of the liberalisation of the telecoms sector, Minister of Public Tele-communications Cathy Hughes announced yesterday.