A Norton Street grandfather was yesterday sentenced to four years imprisonment and fined $30,000 after admitting to possession of narcotics when he appeared before Magistrate Judy Latchman.
Stanley Pile, 59, of Norton Street, pleaded guilty to a charge which stated that he had in his possession 34.048 kilogrammes of marijuana for the purpose of trafficking.
Customs Anti-Narcotic Unit (CANU) Prosecutor Konyo Sandiford in presenting the facts to the court said that on Sunday, CANU officers went to Pile's home at Camp and Norton streets, where they conducted a search.
Sandiford said that while searching the upper flat of the home, in a "makeshift room," the CANU officers found three cartons and two barrels containing concealed packages of leaves, seeds and stems.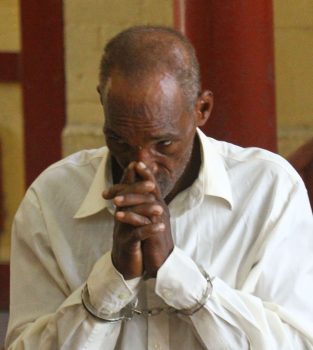 The prosecutor related to the court that Pile, the only person at home at the time, was cautioned upon the discovery but he remained silent. At CANU headquarters, Pile reportedly took ownership of the narcotics which had been found. He told the officers that he had been given the drugs "by someone from over the river."
Pile, before the sentence was handed down, asked for the court to be lenient with him since he is a father of seven and grandfather of five, and has small children.
The court was also informed by Sandiford that investigations are ongoing in relation to another suspect.
Comments

Prime Minister Moses Nagamootoo yesterday called on the Opposition to put to an end their dilatory tactic because it violates the standing order of the National Assembly.                    

(Trinidad Guardian) Stop embarrassing the Chinese government and people! That was Prime Minister Dr Keith Rowley's rebuke to the Opposition in Parliament yesterday, after being pressed on the change of plans for his China trip.

Despite the AFC's claim that it was not involved in the selection of a Guyana Elections Commission (Gecom) Chairman, its two senior leaders, Khemraj Ramjattan and Raphael Trotman, had advised President David Granger that he could utilise the constitutional proviso and make a unilateral appointment.

The National Assembly last evening approved over $8 billion in total budgetary allocations for 16 constitutional agencies even as the government's failure to properly account for cuts to requested expenditure drew criticism.

Opposition MPs were yesterday reprimanded by Speaker Dr Barton Scotland for their raucous behaviour on November 2nd, when they staged a protest that drowned out most of President David Granger's address to the National Assembly.