President David Granger's Public Information and Press Services Officer Lloyda Nicholas-Garrett who has been accused of uttering a racial slur  is once again at his side while he attends the 72nd Regular Session of the United Nations General Assembly in New York.
Sources within the Ministry of the Presidency have confirmed to Stabroek News that Nicholas-Garrett is who presently the subject of an investigation travelled with the Presidential delegation.
Opposition Member of Parliament Nigel Dharamlall last Tuesday shared on his Facebook page screenshots of a private Facebook conversation between the officer and friends. In one of the screenshots Nicholas-Garrett allegedly used a racially derogatory term to describe staff at the Ministry of the Presidency.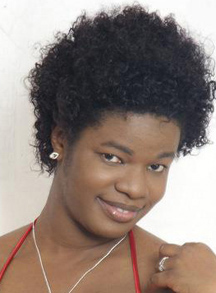 As a result, Head of the Press and Publicity Unit of the Ministry of the Presidency (MOTP), Mark Archer explained that an investigation had been launched.
Archer was quick to distance the Ministry from the comments as was President Granger.
Speaking with reporters at the 32nd anniversary of President's College last week, Granger said that he had "examined the information that was presented to [him] and discussed it with members of staff of that section."
The Head of State noted that "it is not policy of the Ministry of Presidency and certainly not [his] policy to engage in that type of language."
He also said that it was his belief that the comments being shared on social media were not something that represented Nicholas-Garrett's "personal philosophy."
Stabroek News has reached out to Nicholas-Garrett for comment on the issue but failed to make contact. Her personal cellphone has been turned off and her Facebook page deactivated. Additionally Nicholas-Garrett who normally accompanies the President everywhere reportedly did not show up to work on Wednesday and was absent from Granger's side last week. She, however, accompanied him to the United Nations.
Dharamlall, who himself has in recent months made several public statements which were derogatory and racist in tone, accused Nicholas-Garrett  of using "highly racial and very derogatory terms in conversations with her friends as they describe their fellow Office of the President colleagues," whom he believes are Guyanese of Indian descent.
He called for her to be sacked and for her to undergo a "period of race relations rehabilitation".
Comments

MUMBAI, (Reuters) – Opener Rohit Sharma smashed his third one-day international double century to set up India's comprehensive 141-run win against Sri Lanka in the second match of the series at Mohali today.

President David Granger this morning said that he is responsible for the US$18M ExxonMobil signing bonus being put into an escrow account at the Bank of Guyana, a decision he believes was necessary at the time so that Guyana could be prepared for a National Security Emergency.

(Trinidad Guardian) Ramraj Samaroo yesterday appeared in the Couva Magistrates Court charged with the murder of his younger brother.

Auditor General Deodat Sharma has started investigating the failure by government to transfer the US$18 million signing bonus paid by ExxonMobil last year to the Consolidated Fund, in keeping with the Constitution.

Suspended PPP/C Member of Parliament (MP) Bishop Juan Edghill was yesterday arrested after an attempt to enter the compound of the Public Buildings, where the resumption of the consideration of the national budget estimates saw a brief opposition walkout over House Speaker Dr Barton Scotland's decision to allow the approval without scrutiny of allocations slated to be examined at the previous day's disrupted session.