President David Granger's Public Information and Press Services Officer Lloyda Nicholas-Garrett who has been accused of uttering a racial slur  is once again at his side while he attends the 72nd Regular Session of the United Nations General Assembly in New York.
Sources within the Ministry of the Presidency have confirmed to Stabroek News that Nicholas-Garrett is who presently the subject of an investigation travelled with the Presidential delegation.
Opposition Member of Parliament Nigel Dharamlall last Tuesday shared on his Facebook page screenshots of a private Facebook conversation between the officer and friends. In one of the screenshots Nicholas-Garrett allegedly used a racially derogatory term to describe staff at the Ministry of the Presidency.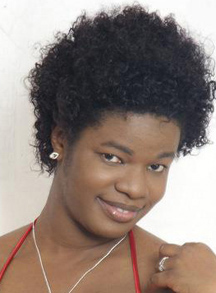 As a result, Head of the Press and Publicity Unit of the Ministry of the Presidency (MOTP), Mark Archer explained that an investigation had been launched.
Archer was quick to distance the Ministry from the comments as was President Granger.
Speaking with reporters at the 32nd anniversary of President's College last week, Granger said that he had "examined the information that was presented to [him] and discussed it with members of staff of that section."
The Head of State noted that "it is not policy of the Ministry of Presidency and certainly not [his] policy to engage in that type of language."
He also said that it was his belief that the comments being shared on social media were not something that represented Nicholas-Garrett's "personal philosophy."
Stabroek News has reached out to Nicholas-Garrett for comment on the issue but failed to make contact. Her personal cellphone has been turned off and her Facebook page deactivated. Additionally Nicholas-Garrett who normally accompanies the President everywhere reportedly did not show up to work on Wednesday and was absent from Granger's side last week. She, however, accompanied him to the United Nations.
Dharamlall, who himself has in recent months made several public statements which were derogatory and racist in tone, accused Nicholas-Garrett  of using "highly racial and very derogatory terms in conversations with her friends as they describe their fellow Office of the President colleagues," whom he believes are Guyanese of Indian descent.
He called for her to be sacked and for her to undergo a "period of race relations rehabilitation".
Comments

The Alliance For Change (AFC) this evening said that President David Granger's appointment of a chairman of the Guyana Elections Commission "has averted a looming constitutional crisis".

The PSC Secretariat on Waterloo Street. The Private Sector Commission (PSC) today said that the President's decision to unilaterally appoint a Chairman of GECOM poses a clear threat to democracy.

Zimbabwean President Robert Mugabe and his wife Grace attend a meeting of his ruling ZANU PF party's youth league in Harare, Zimbabwe, October 7, 2017.

Vladimir Inuma, a deputy leader of an association of the 92 families who vow to stay put in the Cantagallo slum, poses for a portrait in downtown Lima, Peru, September 9, 2017.

President David Granger yesterday unilaterally chose retired justice James Patterson, 84, to be Chairman of GECOM, rejecting a third list that had been submitted by Opposition Leader Bharrat Jagdeo and plunging the country into its worst political crisis since APNU+AFC came to power in 2015.