A fifty-eight-year-old vendor died at the Georgetown Public Hospital last Thursday, just days after she was allegedly beaten by her abusive husband at New Amsterdam, Berbice.
Dead is Janette Tahal, who was a resident of Smithfield, New Amsterdam.
The 60-year-old suspect, her husband, was arrested by the police. The High Court on Friday granted the police an extension of his detention. He is likely to be charged tomorrow.
The fatal beating occurred between Sunday afternoon and Monday morning and Tahal was subsequently taken to the New Amsterdam Hospital before being transferred to the Georgetown hospital.
A post-mortem examination revealed that she died as a result of perforation of the lungs, compounded by blunt trauma to the head.
Stabroek News was told that the elderly couple were involved in an argument, during which the husband reportedly armed himself with a piece of wood and dealt Tahal several blows about her body. The man was known to have abused Tahal but she never made a report to the police.
Comments

The chairman of Trinidad's transparency group says that it  is imperative that an independent third party check revenues from the company extracting oil and the subsequent flows to the government.
Even as ExxonMobil announced that it doesn't expect to pay any corporate taxes to the Australian government until 2021 after an already five-year tax hiatus, the company has  been accused of generating billions in revenue in that country  but using subsidiaries in a scheme designed to avoid paying its dues.

In the wake of the state-owned Guyana Chronicle's termination of David Hinds and Lincoln Lewis as columnists, WPA executive member Tacuma Ogunseye says that party should urgently put on its agenda whether it should stay in the APNU alliance and the coalition government.

President of Transparency Institute of Guyana Inc (TIGI), Troy Thomas says he believes that it was pressure from the people that saw "the unprecedented" release of oil contracts by the government.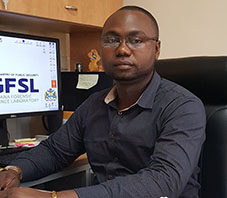 The Guyana Forensic Science Laboratory (GFSL) has spent a substantial amount of time training police investigators in various aspects of evidence collection and submission and this has resulted in a significant improvement in the quality of samples sent for testing, the facility's Director Delon France says.