Detective Senior Superintendent Rishi Dass' request to be removed from the Criminal Investigation Department (CID) has been granted and he has been placed as second-in-charge of the Guyana Police Force's Operations Department.
Police Public Relations Officer Jairam Ramlakhan yesterday confirmed to Stabroek News that Dass' request, made by way of a letter to acting Commissioner of Police David Ramnarine, has been granted.
Dass had been appointed Deputy Crime Chief earlier this year.
Stabroek News was told that Dass' decision came after he testified at the recently concluded Commission of Inquiry (COI) into the alleged plot to assassinate President David Granger.
When substantive Crime Chief, Senior Superintendent Wendell Blanhum, proceeded on accumulated leave on September 12, Dass was on sick leave.
As a result, Commander of 'F' Division Ravindradat Budhram was tasked with the responsibilities but he was removed and replaced by Commander of 'B' Division Paul Williams.
Blanhum, who is currently on 90 days of accumulated leave, is expected to return to his office in December before the holiday season begins.
Superintendent Michael Kingston is the acting Deputy Crime Chief.
Comments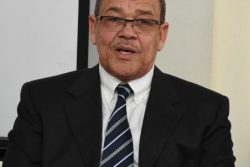 Acknowledging that the Guyana Revenue Authority (GRA) lacks the technical expertise to deal with audits in the petroleum sector, Commissioner-General  Godfrey Statia is moving ahead with plans to train his current staff even as he looks to the diaspora and other support in establishing a specialised unit within the GRA.
The opposition PPP yesterday said that it expects fairness from the Chambers of the Director of Public Prosecutions (DPP) in respect of the review of high-profile charges filed by the state and two PPP/C MPs.
Suppliers of pharmaceuticals to the Ministry of Public Health (MoPH) will now have to provide an authorisation from the manufacturer of their drugs when bidding for state contracts, the Ministry yesterday announced.
The Ministry of Public Security is inviting bids for the construction of a police station in Parfaite Harmonie, West Bank Demerara.