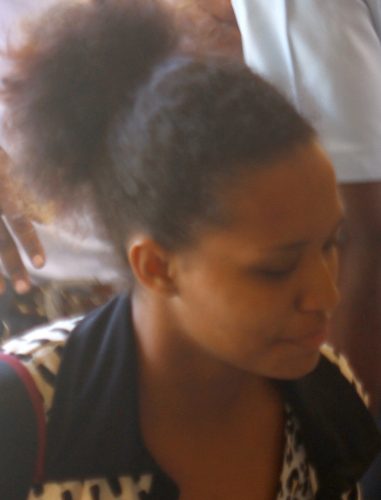 A Canadian resident was yesterday remanded to prison, after she denied having possession of 3.5 pounds of heroin.
Yuniyka Bovell, 19, is accused of having in her possession 1.602 kilogrammes (equivalent to 3.5 pounds), of heroin, on October 5, at the Cheddi Jagan Inter-national Airport (CJIA), Timehri.
Bovell, who had been residing in Guyana for the past six months with her boyfriend and her mother, at 1427 Guyhoc Park, East La Penitence, denied the crime.
The teen's attorney told the court that his client suffers from asthma and recently lost a baby and is still depressed, and as such ought to be granted bail. He further argued that his client had neither knowledge, nor possession, of the drugs.
However, Customs Anti-Narcotic Unit Prosecutor Konyo Sandiford, objected to bail being granted, stating that no special reasons had been presented to the court.
Sandiford stated that contrary to the attorney's comment, the accused was apprehended with a bag that contained the substance.
Bovell, was later remanded to prison and will make her next court appearance on October 24.
Comments

A Brooklyn, New York  man was convicted of manslaughter yesterday for shooting a Guyanese high school girl who authorities said he wanted to date.

(Trinidad Guardian) Soca superstar Machel Montano and music producer Kernal Roberts have won their appeal against their convictions for assaulting a group of friends at a nightclub, almost a decade ago.

By December 29, approximately 4,000 employees across the sugar industry will be without a job, the Guyana Sugar Corporation (GuySuCo) says.
While stating that he is deeply concerned about the significant gap in the appointment of a substantive Chancellor of the Judiciary and Chief Justice, President David Granger yesterday said that he is working to have this issue resolved at the earliest opportunity.
Speaker of the National Assembly, Dr Barton Scotland yesterday disallowed a motion by  PPP/C MP Irfaan Ali to adjourn the budget deliberations in order to facilitate a debate on the controversial US$18 million ExxonMobil signing bonus.