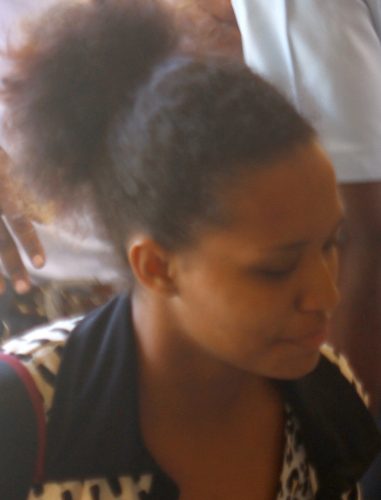 A Canadian resident was yesterday remanded to prison, after she denied having possession of 3.5 pounds of heroin.
Yuniyka Bovell, 19, is accused of having in her possession 1.602 kilogrammes (equivalent to 3.5 pounds), of heroin, on October 5, at the Cheddi Jagan Inter-national Airport (CJIA), Timehri.
Bovell, who had been residing in Guyana for the past six months with her boyfriend and her mother, at 1427 Guyhoc Park, East La Penitence, denied the crime.
The teen's attorney told the court that his client suffers from asthma and recently lost a baby and is still depressed, and as such ought to be granted bail. He further argued that his client had neither knowledge, nor possession, of the drugs.
However, Customs Anti-Narcotic Unit Prosecutor Konyo Sandiford, objected to bail being granted, stating that no special reasons had been presented to the court.
Sandiford stated that contrary to the attorney's comment, the accused was apprehended with a bag that contained the substance.
Bovell, was later remanded to prison and will make her next court appearance on October 24.
Comments

The Georgetown District of the People's National Congress Reform (PNCR) today called for tougher action by the Ministry of Public Security and the Judiciary against crime in the wake of the murder of two elderly women.

Moruga/Tableland MP Dr Lovell Francis chats with two of his constituents whose yard was flooded following heavy overnight rains into yesterday.

India-born South African businessmen brothers, Atul, Rajesh and Ajay Rajesh Gupta. The Gupta family, one of South Africa's wealthiest, has been accused of wielding undue influence behind the scenes.

Although government's advisor on oil and gas, Jan Mangal, has argued that competitive bidding should be employed in the award of future oil exploration leases, Minister of Foreign Affairs Carl Greenidge says such an approach may not benefit Guyana's interests in the long term.

Police investigators will be focusing on the alleged sexual abuse of a 15-year-old boy committed by a city constabulary officer two months ago and not on the failure of the Mayor of City Council (M&CC) of Georgetown to report the case in a timely manner, 'A' Division Commander Marlon Chapman said yesterday.