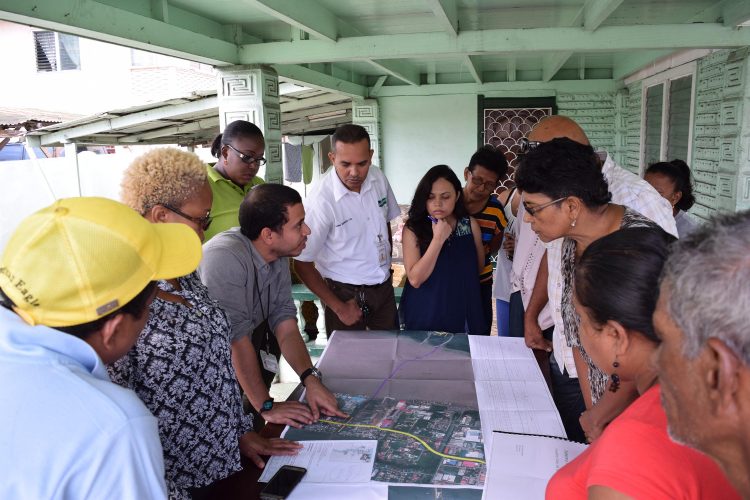 Officials from the Ministry of Public Infrastructure met yesterday with residents of Houston, East Bank Demerara to provide information on possible land acquisition for the new Demerara River Harbour project.
According to a press release from the Ministry of Public infrastructure (MPI), residents from four households met with three officials from the ministry, Senior Engineer Ronald Roberts, Transport Planning Officer Ramona Duncan and Socio-environmental Officer Shawn-Ann Greene.
"We want to ensure that you are informed every step of the way," Greene was quoted in the MPI press release as saying. Greene explained that the "first grassroots community meeting" was to foster a transparent process as the project gets underway, whilst pointing out that all of the previously identified homes might not be affected upon the determination of the final design of the bridge…..
To continue reading this article
Comments

Workers clear the rubble from the scene of last Saturday explosion in KM4 street in the Hodan district in Mogadishu, Somalia October 17, 2017.

Brendan Taylor   BULAWAYO, Zimbabwe, (Reuters) – Former captain Brendan Taylor and bowler Kyle Jarvis were both included in the Zimbabwe test squad for the first time after lengthy absences when a 16-man party was named on Tuesday for the two-test series at home to the West Indies.

With GuySuCo retrenching 2,500 more workers by the end of the year, the main sugar union GAWU has again appealed for it to rethink the closure of estates.

Effective January 1, 2018 property owners applying to the Mayor and City Council (M&CC) for a certificate of compliance will have to pay an increased fee.

Officials from the Number 52- 74 Neighbourhood Democratic Council (NDC) were yesterday scrambling to fill a pothole on the No.