PANAMA CITY, (Reuters) – Panama's government said yesterday that from October Venezuelans wishing to enter the country would need a visa, accusing the administration of Venezuelan President Nicolas Maduro of undermining democracy at home and security abroad.
Speaking a few days after a visit to Panama by U.S. Vice President Mike Pence, the country's president Juan Carlos Varela said the visa requirement would take effect on Oct. 1 and remain in place until "democratic order" was restored in Venezuela.
"Given the break in the democratic order in Venezuela, a situation that puts at risk our security, our economy … and after a careful analysis, I've taken the decision to demand visas from Venezuelan citizens wanting to travel to Panama," Varela said in a brief televised message to the nation.
Varela said the situation in Venezuela had deteriorated since the government decided to press ahead with a 545-member constituent assembly in the face of strong criticism from around the Americas, including the United States and Mexico.
On Friday, the assembly granted itself lawmaking powers, dealing a new blow to the opposition-controlled congress, whose decisions have been nullified by the pro-government Supreme Court.
Large numbers of Venezuelans have left their country due to economic and political turmoil. According to Varela, some 60,000 Venezuelans have moved to Panama in the last six years.
Comments
(Trinidad Guardian) It is now official. Two external audits have confirmed that there was a discrepancy between reported oil production in the Exploration and Production Operations in the Catshill Field operated by A&V Oil and Gas and the actual production receipts at Pointe-a-Pierre discovered by Petrotrin's Internal Audit Department in the period January to June 2017.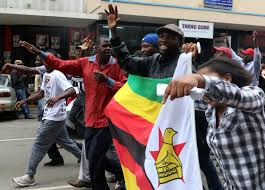 HARARE (Reuters) – The leaders of Zimbabwe's ruling ZANU-PF party will meet today to approve the dismissal of President Robert Mugabe, the only leader the southern African nation has known since independence 37 years ago, two party sources have said.

DUBLIN (Reuters) – Sinn Fein's Gerry Adams, a pivotal figure in the political life of Ireland for almost 50 years, said on Saturday he will step down as party leader and complete a generational shift in the former political wing of the Irish Republican Army (IRA).
WASHINGTON (Reuters) – The top US nuclear commander said on Saturday that he would resist President Donald Trump if he ordered an "illegal" launch of nuclear weapons.
BONN, Germany (Thomson Reuters Fou-ndation) – UN climate negotiations in Bonn, aimed at laying the groundwork for faster action to curb climate change and deal with its impacts, ended in the early hours of Saturday morning with solid progress on key issues, including preparations for ramping up carbon cuts.