Guyana Football Federation (GFF) boss Wayne Forde said the federation is not actively seeking a replacement for the Golden Jaguars head-coach Jamal Shabazz despite the latter being appointed assistant coach of the Trinidad and Tobago senior setup.
Shabazz, whose contract with the GFF is set to expire shortly, was appointed as one of the assistant coaches under recently hired Soca Warriors tactician Tom Saintfiet.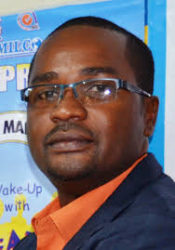 Speaking at the GFF's final press conference for 2016 Thursday, Forde said: "We are not hastily trying to replace the national coach. We are going to take some time, it's not going to stop us from participating internationally. Of course you know we have an assistant coach [Wayne Dover], and we have a Technical Director [Ian Greenwood] that can guide that process."
He added: "Until we develop the model as how we want to see the national programme organized, we are not going to fill that position. It's likely to be filled at the beginning of the second quarter of next year, that is when we plan to but prior to then we have ensure they are a few things in place.
"Ultimately we want the new person to come into a structure and see what we have setup and see how it works and of course they will want to bring their own flavour but ultimately we need to have something that is much improved from where we are at this moment," he posited.
According to Forde, the GFF plans to make changes to the men's setup.
"We will be taking some deliberate steps to reform our men's national programme. There are some fundamental changes that need to be made to how the old programme is setup, how we pursue and procure international players. We are at the drawing board right now making the necessary changes to our men's national programme. In 2017, there will be a new model on how we organize and operate the men's senior programme."
Meanwhile, Forde said that the federation will officially announce its new General Secretary early in the new year.
"The announcement on the new General Secretary will be made on the 2nd of January 2017.
"The selection process and the interview process was very exhausting. We ended up with candidates in the first round that didn't appear to be what we wanted at the time. But that announcement will be made in a matter of days, we have secured a General Secretary."
Presently, former Georgetown Football Association (GFA) executive is allegedly Althea Scipio is acting in the capacity of General Secretary.
Around the Web