x Members of the Interim Management Committee of the Guyana Cycling Federation (GCF) will be meeting during the first week of the new year to discuss the way forward for the sport which has recently grabbed headlines for the wrong reasons.
According to Linden Dowridge, a member of the IMC, discussions will be held at Olympic House to "address numerous topics at hand."
Dowridge told Stabroek Sport yesterday that high on the agenda will be a structured race calendar for 2017, the increase of mileage for road races and garnering of sponsorship.
The IMC which is made up of members of the cycling clubs, will be pedaling and steering the affairs of the sport for the foreseeable future following an Extraordinary General Meeting last November where nine of the 11 clubs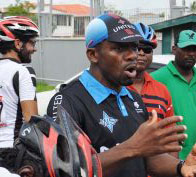 voted on the motion that the current executive of the Guyana Cycling Federation (GCF) be dissolved and an IMC installed to effectively conduct the affairs of the discipline.
Following a whirlwind of reports of incompetence, lack of transparency and the continued absenteeism of the then president, US based Horace Burrowes, the cyclists and the clubs had enough of seeing the sport spiral downward and called for a change.
The meeting was called to order and all in attendance were checked and verified as Financial Members before the Motion was proposed by Andrew Arjoon of Evolution Cycling Club and seconded by Malcolm Sonaram of Carlton Wheelers Cycling Club. According to the constitution, 5/6 of the votes must be met before the motion is granted. There was a unanimous vote.
The clubs present at the meeting were Team Alanis, Carlton Wheelers, Continental, Team Evolution, Flying Ace, Flying Stars, Linden Bauxite Flyers, Trojan Cycling and Roraima. Missing were representatives from Team Cocos and We Stand United.
The move which was first reported by the Guyana Cycling News has been labelled "as a step in the right direction" and has been lauded by cycling enthusiasts and stakeholders.
Around the Web