Junior Hercules, Coordinator of the Guyana National 3×3 team said yesterday that he was confident the team will reach the final of the International Basketball Foundation (IBF) Lesser Antilles Youth Champion-ship scheduled for February in St. Lucia.
In an interview with Stabroek Sports, Hercules said:"My expectation is for them to win. I believe because of the format and in terms of the concept, it's not the most skilled team that always win and I am not saying that our team is not skilled."
Hercules, who also holds the portfolio of Georgetown Amateur Basketball Association (GABA) President, added:"I believe if we can stick to a strategy and be able to understand where the advantages lies in the concept, if the players are fit and have the understanding of the game, my expectation is to make the final at a minimum."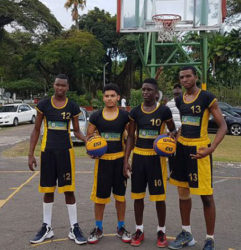 Kwakwani Combined, which comprises the quartet of Stanton Rose, Jonathan Mangra, Timothy Thompson and Jamal Gilkes, earned the right to represent Guyana at the championships after they won the inaugural Guyana Amateur Basketball Federation (GABF) U18 boys 3×3 event last November at the Burnham Court on Middle and Carmichael Streets.
Clinching their berth to the final after defeating Royal Titans 12-7, Kwakwani secured the championship after outscoring Team Buckets 14-7 in a cagey 10-minute affair. Team Buckets sealed their berth to the final after defeating Greeks 'n' Sneaks 15-5.
According to Hercules, a training schedule will be commissioned shortly to ensure the team is properly prepared. He said the areas that will be covered in the schedule include "Players Fitness and Synergy, Full Understanding of the Tournament Rules and Game Strategies for the Format".
He added that a friendly engagement or a short tournament will be created to give the players adequate practice before the tournament commences.
"We will create an environment for that, there is also a skilled challenge exercise or rotation that will help to create game situations and will assist on the player rotations. We will also have practical games," Hercules disclosed.
Although the draw for the tournament has not occurred, possible opponents for Guyana in the tournament include Antigua and Barbuda, Aruba, Barbados, Curacao, Grenada, Guadeloupe, Martinique, Netherland Antilles, St. Lucia, St. Vincent and Grenadines, St. Maarten and Trinidad and Tobago.
Around the Web