Experienced racquet wielders Andrew Downes and Cristy Campbell were adjudged the senior male and female players of the year respectively when the Guyana Lawn Tennis Association (GLTA) staged its third annual Awards Ceremony Friday.
Downes, a six-time winner of the Guyana Bank for Trade and Industry (GBTI) Open singles tournament, easily copped the accolade at the ceremony held at the Le Ressouvenir Tennis Club, after amassing 5200 points following credible performances throughout last year.
Female winner Campbell walked away with the honour after amassing 3200 points while rising stars Heimraj Resaul and Afruica Gentle were the junior winners.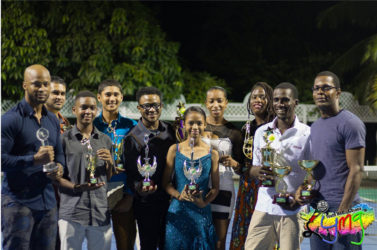 Resaul tallied an impressive 7550 points while Gentle recorded 6775 points.
The most improved junior award went to Mark McDonald.
President of the GLTA, Jamal Goodluck, during the feature address, said the aim of the ceremony was to reflect on the progress made during last year and build the institution into an organization that is geared towards the development of the discipline. According to Goodluck, one of the main objective of the association is to have facilities of acceptable standard before the commencement of the Inter-Guiana-Games (IGG) in October.
Director of Sports Christopher Jones, during a brief address, disclosed that a Memorandum of Understanding (MOU) will be signed between the National Sports Commission (NSC) and the GLTA and that lights will be commissioned at the National Racquet Centre before this year's IGG.
Former GLTA president Grace McCalman said the association has worked assiduously to establish structures which cater to improving the operations of the entity, revealing that there is currently a tournament manual, an online ranking scheme and a player ranking table, evidence of the systems created.
In attendance at the gala were several dignitaries including Professor Dawn Duke, Public Relations Officer (PRO) of the Ministry of Public Health, Mitzy Campbell and tennis scholar Gavin Lewis.
Awards were presented to veterans Samuel Barakat and Harry Panday, owners of private lighted tennis courts for their continuous support while McCalman received an award for her dedication to the association.
Around the Web