Powerlifting, one of Guyana's most successful indoor sports over the last decade will take centre stage today when the Guyana Amateur Powerlifting Federation (GAPF) stages its Annual General Meeting (AGM)  from 09:00h at the National Racquet Centre on Woolford Avenue.
Today's AGM will entail the renewal of affiliation, minutes of 2016 AGM, the incumbent President, Ed Caesar's Report, the General Secretary's Report, the Treasurer's Report, Election of 2017 Office Bearers and any other business.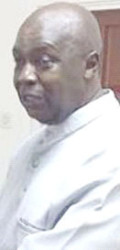 All athletes and referees are reminded that attendance is essential for registration for the coming year and eligibility for selection for international events in 2017.
Speaking to Stabroek Sport yesterday, incumbent president, Ed Caesar noted that he was confident of being re-elected since the discipline despite lack of sufficient funding continued to make Guyana proud on the Regional stage.
Caesar added that he envisions another successful year for the strength sport once he is re-elected to the top post.
Around the Web