By Royston Alkins
Director of Sports, Christopher Jones, said that government plans to upgrade both the National Gymnasium, the main venue for the just-concluded Forbes Burnham Memorial competitions and the Cliff Anderson Sports Hall (CASH).
Jones said that the improvements were necessary to make the venues more attractive to large crowds and make them more ideal for the different sporting disciplines.
"We (National Sports Commission) are already on the move because it's catered for in the 2017 National Budget. Ventilation for the gymnasium is one of the items that is on the agenda and we have received an allocation for that. The consultants would have already submitted their submissions as to what cooling vents could use here and that has already been signed off by me and has been sent to the tender board to be sent out for bids and of course before the conclusion of the second quarter, I'm hopeful, that the vents will be installed at the Gymnasium and then of course next year we will move to the Sports Hall," he added.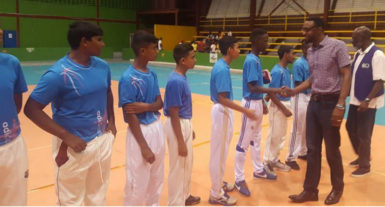 Jones was speaking to Stabroek Sports at the culmination of the Forbes Burnham Memorial Inter-Schools windball cricket tournament at the National Gymnasium on Sunday.
He told this newspaper that he was quite satisfied with what he has seen on display during the games to celebrate the 94th birth anniversary of Guyana's first Executive President.
Jones in an invited comment tol Stabroek Sports:"I'm very satisfied with what I've seen throughout the days when these tournaments were played. We saw large participation from several schools from various parts of East Bank, Georgetown and even in Region Three and the East Coast. This, of course, signals some of what young people are looking for and I want to commend the Burnham Foundation for their continued efforts to organize this sort of activities to mark the birth of anniversary of Guyana's first Executive President and Prime Minister."
He added: "By virtue of what we've seen today and days gone by, the Sports Commission with its organiser Mr. Munroe (Allister) will be planning similar activities on a quarterly basis, inviting north and south Georgetown, East Bank, East Coast and other parts of Guyana for similar competitions, as well." Jones, when asked about what measures can be put in place to spark an increase in the number of persons who turn out to local sporting events, alluded to creating more competition like that of the windball tournament and encourage schools to participate while also inviting their support base.
Meanwhile, Chairman of the Burnham Foundation, Vincent Alexander said the events that unfolded around the Foundation's efforts coupled with the work that the Director Of Sport has been doing, shows the potential of sports in Guyana.
Around the Web