By Royston Alkins
A lower order fightback by West Demerara Secondary School's batsmen was unable to stop Lower Corentyne Secondary from winning the Guyana Cricket Board/Ministry Of Education/Demerara Mutual Limited Life Assurance Society, National Secondary Schools cricket league by four wickets at the Georgetown Cricket club (GCC), Bourda ground, yesterday.
West Demerara who won the toss and elected to take first strike, were in early trouble after being reduced to 28 for 5 after 15 overs.
Their last five wickets however, batted sensibly to put on 79 runs which carried their score to 107 all out in 44.5 overs.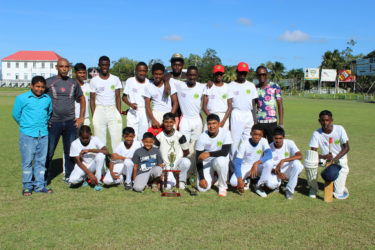 Number eight batsman Christopher Gurdya who made 21 and number 10 Dev Seepersaud added 43 for the ninth wicket to give West Demerara a score to bowl to. Early on, opener Nicolas Holder (21) and Kemar Ferera (16) were the only other batsmen to reach double figures.
Kristoff Williams 4 for 25 was the chief destroyer for Lower Corentyne. He got support from Junior Sinclair who took 3 for 14 and Joshua Wilson who bowled both medium pace and off spin and took 2 for 18.
Lower Corentyne, in reply, looked positive from the start when opener Sinclair whipped Aaron Seepersaud off his pads for a boundary in the first over. He then muscled the same bowler in the fourth over down to mid-wicket to carry the score to 19 without loss after 5.
The chase, however, was not smooth sailing after they lost both openers in a hurry. Devendra Sumra, was bowled for three by Aftab Basir while Sinclair, the other opener was bowled by left-arm chinaman Daneshwar Kowlessar for 20 to leave the score on 28 for 2 in the eighth over.
West Demerara was once again celebrating when Haresh Fernandes was stumped to give Basir his second wicket. The score at that point was 35 for 3.
Those wickets, however, did not faze skipper Kevlon Anderson who bided his time and waited for the loose balls. He struck his first boundary off Kowlessar pulling him through mid – wicket for four and worked the ball into the gaps for ones and twos to keep the score ticketing.
The 50 came up in the 14th over as Anderson's presence at the wicket kept lower Corentyne in the hunt.
Anderson found an alley in Justin Gobin who joined him at the crease with the score on 35 for 3. Gobin, who started nervously, settled his nerves to produce a 75-run, fifth-wicket partnership with his skipper to see their side home. The two ran well between the wickets and chanced their arms in their match-winning partnership to see Lower Corentyne to 107 for four when Gobin threw his wicket away with Lower Corentyne needing only one more run to win. He fell for 21. Anderson ended on 44 not-out to see his side home as he did in the semifinals against Chase Academy. Aftab Basir, who took 2 for 29 from seven overs was the only wicket taker.
Anderson was adjudged player of the match for hi innings.
Around the Web