By Duncan Saul
Banks DIH Limited, under its GT Beer Brand, has partnered with the Guyana Football Federation (GFF) for the clash between Martinique and the Golden Jaguars today at the Mackenzie Sports Club (MSC) ground, Linden.
Troy Peters, Banks DIH Communications Manager during a brief address at a press conference held at the Signature Inn, Alberttown yesterday said, "We are excited about this clash between Guyana and Martinique. As you know Linden is one of our main towns and the support base for football is very strong and our brand GT Beer is where we actually launched the brand a years ago. The brand is very instrumental, not only in Linden, but in the country."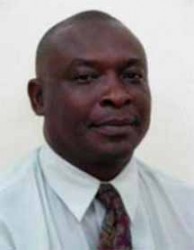 He added: "We look forward to an exciting match tomorrow. We urge the fans to come out and we are pleased to be partnering with the GFF in this particular venture and we look forward to more exciting times and plans with the GFF for the future. In fact, they have shown us some of their projects, we are looking at it and taking them into consideration as we look to push football in Guyana."
According to the former national hockey player, the sport has a lot of potential and recently has been going from strength to strength.
"Football has a lot of potential, we are seeing the sport going from strength to strength and tomorrow (today) let's look forward to a victory for the Golden Jaguars as we move forward in our preparation for the international tournaments."
Wayne Forde, GFF President, during brief remarks, said his association was pleased with the partnership.
"The GFF is exceptionally pleased to be partnering with Banks DIH for this international friendly. The GT Beer has been a progressive and rapidly prominent brand and we are glad that they will use that product to carry the Golden Jaguars forward in tomorrow's (today) encounter."
Guyana tackles Martinique from 20:00hrs at the Mackenzie Sports Club (MSC) ground in Linden. The previous international fixture staged in the Mining Town took place May 19th, 2011.
Around the Web