Team Coco's standout, Jamal John came out on top of a five-man sprint to win the seventh annual PowerAde 50-mile road race to secure his fourth win of the season at West Demerara yesterday.
John bettered Team Evolution's Paul DeNobrega by a bike length for the race which started at Wales, proceeded to Parika and returned to Schoonord for the finish. The 20-year old wheelsman who also pocketed two sprint prizes, completed the trek in a brisk one hour, 57 minutes and 16 seconds.
DeNobrega's club mate, Akeem Wilkinson completed the podium about three bike lengths back.
Team Alanis' Alonzo Ambrose finished fourth while riders from the Berbice based Trojan Cycling Club, Jason Cameron and Romello Crawford filled out the top six rewarding positions.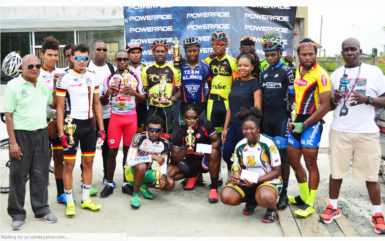 Hamza Eastman broke up the 45-man peloton when he attacked near the Demerara Harbour Bridge. A small group followed, but he encountered mechanical problems and the top five pulled away on the streets of the West Bank. There they stayed ahead all the way to the finish.
The leaders sized each other carefully in the final miles. Wilkinson ignited the sprint 250 meters from the line. He made his move too soon, and John caught him with ease, then resisted DeNobrega's response to try and claim his first win in 2017 on the open roads.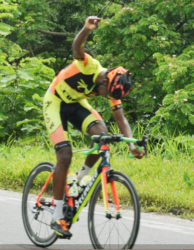 John, who is one of the main sparkplugs igniting the Team Coco's machine this season, will look to add another first place trophy to his collection when the cycling calendar continues on April 9 in Linden with the sixth annual Baker's Memorial Cycling Classic. (Emmerson Campbell)
Quick Results Top 6
Jamal John
Paul DeNobrega
Akeem Wilkinson
Alonzo Ambrose
Jason Cameron
Romello Crawford
Veterans
Junior Niles 
Leer Nunes
Ralph Williams 
Mountain Bikes
Keon Thomas
Shane Bourne
Ozia McAulay
Around the Web