Brave Sky led home stablemate Golden Blue Echo to give the Nand Persaud Stables a one-two in the feature E and Lower 2000m event at the Kennard Memorial Turf Club on Sunday.
The Horse Race Meet and Duck Curry Competition was heightened with the two steeds galloping past the Grand Stand in the cloudless sky as turfites were sent into a frenzy.
The win for the thoroughbred and the stable which took the champion stable honors was worth $400,000 and the coveted winner's trophy.
Settling Star placed third a few lengths back in the six-horse field.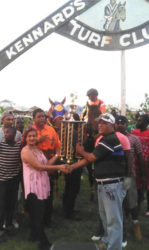 Before the feature event, there were six races. Here is a summary of them:
Race 1 (L Non-Winners)
Blondie ($100,000)
Party Done
Blue Lightning
Physical Disturbance
Race 2 (Three-Year Old Maiden)
King Stanley ($100,000)
Miss Anjalie
Race 3 (H1 and Lower)
Dead heat involving ($220,000 and $110,000 combined and split)
Super Gold and Isn't She Charming
Cat Messiah
Campador
Race 4 (I and Lower)
Party Time ($160,000)
Ms Olympia
Mary Ann
Amazon Warrior
Race 5 (L Non Earners)
Royal Prince ($80,000)
Street Silent
Royal Progressive
Red Weasel
Race 6 (K Non Winner)
Plane Land ($120,000)
Confusion
She's in Control
Blondie
The horse race season continues on Easter Sunday at the Port Mourant Turf Club with the Guyana Cup Fever.
Around the Web