Warriors 120, Suns 111
(The Sports Xchange) Stephen Curry scored 42 points as Golden State clinched the top spot in the Western Conference and home-court advantage throughout the playoffs with a win over Phoenix. Klay Thompson added 22 points for the Warriors, who won their 13th consecutive game and hit the 65-win mark for the third straight season. The Warriors had a 40-point scorer for the third game in a row. Curry scored 42 against Washington on Sunday, and Thompson had 41 against Minnesota on Tuesday.
Thunder 103, Grizzlies 100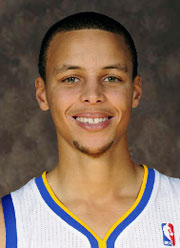 Russell Westbrook finished a rebound shy of setting an NBA record for most triple-doubles in a season, but his 45 points and 10 assists paced Oklahoma City to victory over Memphis.
Westbrook had his streak of seven consecutive triple-doubles snapped a night after tying Oscar Robertson's record of 41 triple-doubles. Westbrook needs six assists in the remaining four games to average a triple-double for the season. The Grizzlies lost their third straight to fall 3 1/2 games behind sixth-place Oklahoma City in the Western Conference. Marc Gasol led Memphis with 23 points.
Cavaliers 114, Celtics 91
LeBron James scored 36 points and pulled down 10 rebounds as the Cleveland Cavaliers dominated Boston 114-91 and pulled one game ahead of the Celtics at the top of the East standings. Kevin Love finished with 15 points and 16 rebounds, and Kyrie Irving added 19 points for Cleveland, which dominated the highly anticipated showdown for the No. 1 playoff seed.
Rockets 110, Nuggets 104
James Harden recorded his 61st double-double and finished with 31 points and 10 assists. Houston clinched the third seed in the Western Conference. Danilo Gallinari led the Nuggets with 23 points which dropped one game behind Portland for the eighth and final postseason slot in the West.
Heat 112, Hornets 99
Goran Dragic scored 33 points as Miami remained in the hunt for the final Eastern Conference playoff spot. James Johnson added 26 points, hitting 6-of-7 three-point attempts for the Heat while Hassan Whiteside had 13 points and 20 rebounds. The Heat are in a three-way tie for seventh with Chicago and Indiana in the East, but they are eighth because of tiebreakers.
Raptors 105, Pistons 102
Kyle Lowry erupted for 27 points and 10 assists in his first game since the All-Star break, and Toronto erased a 12-point deficit in the fourth quarter to down Detroit.The All-Star point guard missed 21 games because of a right wrist injury that required surgery. Jonas Valanciunas had 19 points, and Cory Joseph supplied 15. The Raptors moved a half-game ahead of the Washington Wizards for the third-best record in the East.
Lakers 102, Spurs 95
Tyler Ennis scored 19 points to lead five Los Angeles players in double figures as the Lakers rolled past San Antonio. Jordan Clarkson added 16 and Larry Nance Jr. hit for 15 for Los Angeles, which won for the second straight game against a team that clinched a playoff berth. Tony Parker and Davis Bertans led the Spurs with 14 points apiece.
Clippers 112, Mavericks 101
Blake Griffin scored 32 points and J.J. Redick added 25 as Los Angeles defeated Dallas Mavericks. Los Angeles won its fourth straight game and eighth in the past 10 to pull within a half-game of the Jazz for fourth place in the Western Conference.  Clippers guard Chris Paul registered 22 points and 11 assists, and DeAndre Jordan posted his 38th double-double of the season with 11 points and 20 rebounds.
Around the Web