LAHORE, Pakistan, CMC — Pakistan Test captain Misbah-ul-Haq said Thursday the upcoming three-match series in the Caribbean would be his swansong in international cricket.
"It will be my last series and I had conveyed this to the chairman [of the Pakistan Cricket Board] quite some time ago," Misbah said while speaking to reporters at the Gaddafi Stadium here Thursday.
"There was no pressure on me. I was planning to quit after the England series in the UAE [two years ago] but there were some things and I had to carry on playing."
Speculation had been rife over Misbah's future in recent months especially after Pakistan suffered a solid 3-0 drubbing at the hands of Australia Down Under.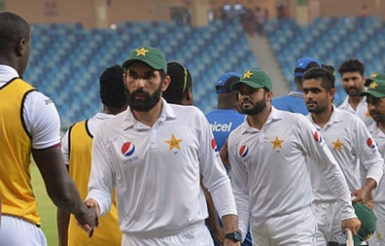 It was also rumoured that he had come under pressure from the PCB to step down but he pushed back against those suggestions, arguing he had reached the decision on his own.
"Overall it's fine and not like I am under any pressure or somebody has dictated this to me. I have myself understood that this is it and it's purely my own decision," he stressed.
"It's a wrong impression that the board has enforced this as my last series or there's a patch-up between me and the cricket board. I thought to play against West Indies because it was important for us as we haven't won against them in their own backyard."
Misbah led Pakistan to the pinncale of the Test format last year when they topped the International Cricket Council rankings and said the achievement remained the "highlight of my career."
All told, Misbah has led the country 53 Tests, winning 24 losing 18 and drawing 11, since taking over in 2010.
And having presided over a 2-1 victory in a three-Test series against the Windies in United Arab Emirates last year, he now sees the upcoming series an the ideal way to lower the curtain on his international career.
"My cricket journey was very good. There were many hardships in my career but for now I am focusing on the present situation," he said.
"The series against West Indies is a good opportunity to bring the team back on the winning track."
The right-hander boasts an impressive Test record of nearly 5 000 runs at an average of 44 with 10 centuries in 72 matches.
Pakistan face West Indies in the opening Test at Sabina Park starting April 21, do battle in the second Test at Kensington Oval beginning April 30 before taking on the hosts in the final game at Windsor Park in Dominica from May 10-14.
Around the Web