When the Boyce and Jefford Relay Festival and Family Fun Day is staged on April 30 at the Police Sports Club Ground, Eve Leary the organizers will be catering for athletes with "different abilities"
According to a release, the organizers for the event which is in its second year, have added a wheelchair race to the programme for differently abled athletes.
The race was included to facilitate Uttamkumar Isurdeen and other athletes, who indicated to the organisation that they are pushing to one day, compete in the Paralympics Games. "I want to take part (in the Boyce/Jefford Relay Festival) and I will train hard too," Isurdeen stated in a message.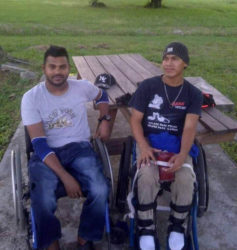 Isrudeen and other athletes like himself, push around the inner circuit of the National Park with the hope of one day qualifying for the Paralympics. The Boyce/Jefford Committee has indicated that a 60m race will be placed on the program for athletes competing in wheelchairs.
Chairman of the Boyce/Jefford Committee, Colin Boyce also indicated that they will also push to include a race for amputees so that the event becomes more inclusive to represent the differently able athletes; he said that these efforts are all aimed to continue to demonstrate the organization's passion for the holistic development of sports.
The relays this year include the 4×100 (Male and Female); 4×400 (Male and Female); 4x200m Mixed Relay; 4x400m Mixed Relay; Sprint Medley Females (100m,100m, 200m, 400m); Sprint Medley Males (100m, 200m, 400m, 800m); Distance Medley Females (2400m) (400m, 600m, 600m, 800m) and the Distance Medley Males (2800m) (400m, 600m, 600m, 1200m).
Cash Prizes of $25,000; $15,000 and $10,000 will be awarded to teams finishing first to third in the relay events for total prize money of $500,000 to be handed out in 10 races.
Around the Web