Petra Organization continued their mandate to develop the discipline of football by donating the winner's trophy and balls to the Circuit Ville Jaguars Youth and Sports Club for their upcoming Track and Ball Competition.
Speaking at the event's launch Wednesday at the Parade ground, Carmichael Street, Co-Director of the Petra Organization Troy Mendonca said the donation forms part of the entity's vision is to create avenues that will keep the youths positively engaged.
President of Circuit Ville Jaguars Owan Wills thanked the entity for its contribution, declaring that it will be properly utilised for the benefit of the community.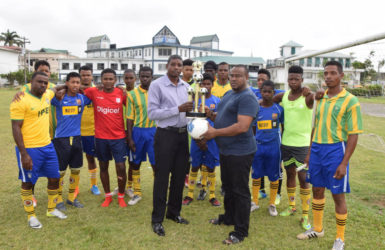 Wills said that the concept is based on running and football. The villages that are expected to compete in the tournament slated for tomorrow at the Timehri Red Ground are Timehri, Swan, Kuru Kururu, Hararuni, Laluni, Soesdyke, St. Cuthbert's Mission and Circuit Vile/ Yarrowkabra.
According to an official release from the club, track and ball is a combination of athletics and football, with the key factors of the game based on speed and endurance which provide teams with an advantage to record goals and points against another.
The game is based on goals and points and the team which accumulates the most goals and points will be declared the winner.
Teams must conduct a relay before the start of the football match, with the winner being handed an early advantage of a goal for finishing as, the winner of the race.
The team which acquires the most running points at the end of a league or tournament will be given the top prize and be crowned the fastest team in that league or tournament.
Around the Web