(The Sports Xchange) – Russell Westbrook capped his record-setting 42nd triple-double with a game-winning three-pointer at the buzzer and the Oklahoma City Thunder beat the Denver Nuggets 106-105 on Sunday.
Westbrook ended his historic day with a 36-foot dagger to finish with 50 points, 16 rebounds and 10 assists to pass Hall of Famer Oscar Robertson for most triple-doubles in an NBA season.
Hawks 126, Cavaliers 125 (OT)
Atlanta topped Friday's stunning short-handed victory in Cleveland with a 26-point fourth-quarter comeback to shock the Cavaliers in overtime.
It was just the third time in NBA history that a team overcame a deficit of 26 or more points in the fourth quarter and won.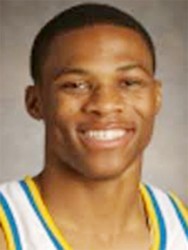 Cleveland led 93-67 after the third quarter, but the Hawks outscored the Cavaliers 44-18 in the fourth and tied it at 111 on Paul Millsap's short jumper at the buzzer after Atlanta won a jump ball.
Raptors 110, Knicks 97
DeMar DeRozan scored 35 points to become the second player in team history to reach 2,000 points in a season as Toronto reached 50 wins and secured at least the third seed in the Eastern Conference by beating New York.
DeRozan joined Vince Carter as the second Raptor to get at least 2,000 points when he converted a nifty three-point play with 3:11 left in the first quarter.
Rockets 135, Kings 128
James Harden scored 35 points, handed out 15 assists and grabbed 11 rebounds, and Houston handled business with aplomb by knocking off Sacramento at the Golden 1 Center.
Forward Ryan Anderson also lit up his hometown team, scoring 21 points to complement Harden's 21st triple-double of the season as the Rockets reached the 54-win plateau for the third time in four seasons.
Pistons 103, Grizzlies 90
Playing without two of its starters, Detroit snapped a six-game losing streak against Memphis at FedExForum.
The Pistons trailed by nine at the half but outscored the Grizzlies 55-33 in the second half. Detroit got 52 points from its reserves, including 14 from center Boban Marjanovic and 13 from forward Darrun Hilliard.
Suns 124, Mavericks 111
T.J. Warren and Devin Booker scored 21 points each and Phoenix closed out the home portion of its schedule with a victory over Dallas.
Warren made all eight of his shots from the floor and added seven rebounds in 29 minutes.
Lakers 110, Timberwolves 109
D'Angelo Russell's three-pointer at the horn lifted Los Angeles to a victory over Minnesota at Staples Center.
Russell's game-winner allowed the Lakers to win four in a row for the first time in four seasons. It also negated a 41-point performance by Minnesota's Andrew Wiggins and 40 more by Karl-Anthony Towns.
Around the Web