On a night that featured wins for 2013 titlist Plaisance-A and 2014 champion Melanie-A, 2015 winner Beterverwagting (BV)-A was dumped from the Guinness 'Greatest of the Streets' East Coast leg, losing 2-1 on sudden death penalty kicks to Top-7.
With the score locked 1-1 at the end of regulation time at the Haslington Market Tarmac on Wednesday night, the unfancied and youthful Top-7 outfit prevailed as, they netted two of their four shots from the mark, while BV-A could only score once from their allotment.
Prior to the unexpected conclusion, Phillip Williams gave Top-7 the initial lead in the 12th minute, while Delroy Dean equalized in the 18th minute.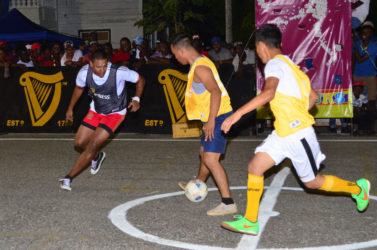 Meanwhile, Plaisance-A edged Golden Grove South 1-0, through a Warren Gilkes effort in the 13th minute. Similarly, Melanie-A squeaked past Haslington North 1-0.
William Europe separated the two teams with a 19th minute conversion.
In other results, Plaisance-B edged Portmore United 1-0, while Young Jiggers downed Uprising by an identical scoreline. Meanwhile, Melanie-B dismissed Annandale Warriors 3-0, and Turkeyen brushed aside Mahaica 5-0.
Also, Future downed Doctor Yard Assassins 2-1, while Lusignan Prison needled Nabaclis 1-0. Nonpareil City Boys battled past Buxton D&J 1-0 on penalty kicks, after regulation time had ended scoreless, while Clonbrook Strikers squeaked past Bare Root Mafia 1-0 on penalty kicks, following a 0-0 score at the end of normal time.
Belfield Ballers downed Haslington Hypers 1-0 via a Kellon Johnson 14th minute effort, while Buxton Diamond edged Golden Grove North 1-0 via penalty kicks, after regulation time had finished 0-0. C-Division Police arrested Hard Ball 3-2 on penalty kicks, following a scoreless normal time interval, and Victoria Church Yard downed Paradise 1-0 on sudden death penalty kicks, following a 1-1 result at the end of regulation time.
Windel Wilson netted in the eighth minute for Victoria Church Yard whilst Tyreek Cummings leveled proceedings in the 17th minute for Paradise.
The event will resume tomorrow at the same venue with the round of 16 fixtures. At 18:00hrs, Lusignan Prison will oppose Melanie-B, while Plaisance-B battle Nonpareil City Boys at 18:30hrs and Clonbrook Strikers oppose defending champ BV-B from 19:00hrs.
The fourth fixture will pit Melanie-A against Young Jiggers at 19:30hrs, whilst C-Division tackle Future at 20:00hrs and Turkeyen engage Top-7 from 20:30hrs.
The final two matches of the round will pit Belfield Warriors against Plaisance-A at 21:00hrs, and Buxton Diamond versus Victoria Church Yard from 21:30hrs. The resulting winners will then faceoff in the quarterfinal round from 22:00hrs. The grand finale of the event will occur on April 17th.
Around the Web