Defending champions Beterverwagting (BV)-B will tackle Melanie-B while Buxton Diamond will engage Plaisance-B today in the semi-finals of the Guinness 'Greatest of the Streets' East Coast of Demerara leg following quarterfinal wins Saturday.
It was a night of penalty shoot-out victories as nine results out of the 12 matches were decided from the halfway mark at the Haslington Market Tarmac.
Titlist BV-B sealed their berth to the final four after eliminating 2014 champion 1-0 on penalty kicks. The score at the end of normal and extra time was 0-0. Similarly, Melanie-B edged Future Stars 2-1 via the penalty mark following scoreless normal and extra time play.
Meanwhile, Plaisance-B downed Turkeyen Champs 1-0 compliments of a Vincent Thomas effort in the 16th minute.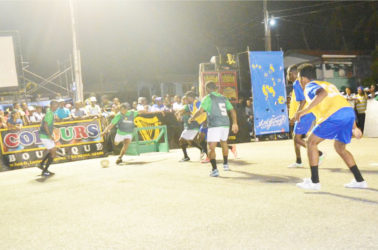 They will now meet Buxton Diamond who edged Belfield Warriors 4-3 on sudden death penalty kicks after regulation and extra time failed to break the scoreless deadlock.
In the earlier round of 16 section, BV-B downed Clonbrook 1-0 and Melanie-B defeated Lusignan Prisons 3-1 on penalty kicks.
Plaisance-B edged Non-Pariel City Boys 3-2 on penalty kicks following a 0-0 score at the end of normal time while Buxton Diamond downed Victoria Church Yard 2-1 via the penalty mark after the match ended 0-0 atregulation time. Melanie-A edged Uprising 2-1 from penalty kicks after a 0-0 score at the end of normal time while Turkeyen Champs bested Top-7 2-0. Future Stars overcame C-Division 1-0 from the penalty spot after normal time ended at 1-1 and Belfield Warriors edged 2013 champs Plaisance-A following a scoreless normal time interval.
Around the Web