Add another first place trophy to Hamzah Eastman's collection.
One day after sprinting to victory in the feature 35-lap event of the Universal Auto Sales event in the National Park, the Team Coco's standout took his talents to the open road to record back-to-back victories yesterday.
While Eastman won Saturday's race in a four-man sprint, he made light work of the field on this occasion and soloed to victory to cart off the spoils of the Chin Chan Cycle Shop sponsored 70-mile race.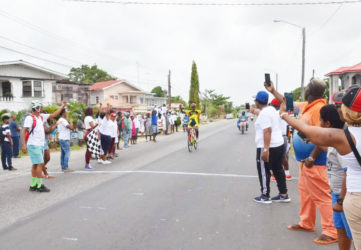 Eastman pocketed the $50,000 first prize after stopping the clock in two hours, 43 minutes and 54 seconds for the event which got off to a rolling start from Chin Chan's on Robb Street, proceeded to the Coca Cola Sign at Loo Creek on the Linden Soesdyke Highway then returned to Grove on the East Bank Demerara for the finish.
He led Christopher Griffith and Michael Anthony onto the podium while Walter Grant-Stuart, Akeem Wilkinson and Paul DeNobrega filled out the top six rewarding positions.
Quick Results
1st Hamzah Eastman
2nd Christopher Griffith
3rd Michael Anthony
4th Walter Grant Stuart
5th Akeem Wilkinson
6th Paul DeNobrega
Masters (35-50)
1st Warren Mckay
2nd Lear Nunes
3rd Junior Niels
Juniors
1st Briton John
2nd Jason Cameron
3rd Adealie Hodge
Around the Web