Guyana Defence Force (GDF) maintained their lead atop the Guyana Football Federation (GFF)/Stag Beer Elite League after edging Buxton United 2-1 Saturday at the Number 5 ground, West Coast Berbice.
Clifford Garraway and Delroy Fraser were on target for the unbeaten army unit in the 42nd and 57th minute respectively. On target in the loss was Michael Phyll in the 45th minute.
With the win, GDF  now has 21 points and has extended their their lead on second placed Fruta Conquerors by five points. Buxton, however, remains on six points and in fourth position.
Meanwhile, Linden unit Topp XX sealed their first win of the event, edging home side Monedderlust 2-1.
Terrence Aaron and Travis Watterton netted in the 27th and 55th minute correspondingly for Topp XXwhile Dexter Frank scored in the 45th+1 minute for the hosts. Topp XX are now in fifth place with four points while the Monedderlust is in the cellar position on three points.The event resumes April 23rd at the Buxton Ground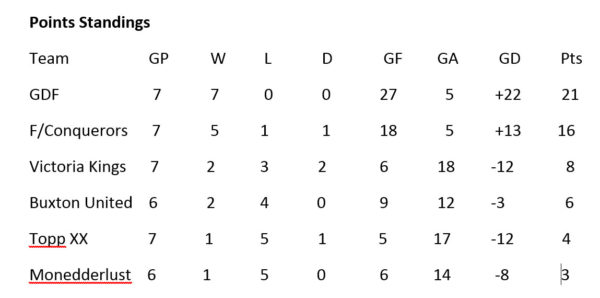 Around the Web