As day one of the 2017 Bartica Regatta Speedboat competition kicked off yesterday there were a number of fiercely-contested races witnessed by a relatively large turn out as a number of veteran and popular racers competed for several of the attractive prizes at stake.
The event was officially declared open by President David Granger and some of the persons that were in attendance included Joseph Harmon, Dr. George Norton, Dawn Hastings, Sydney Allicock, Dr. Terrence Smith, Jermain Figueira, Roderick Edinboro, Gordon Bradford, Gifford Marshall, Brian Tiwari and a number of other top public and private sector officials.
The first race commenced at 10.50am due to the late start of the opening ceremony and was contested over three laps.
The 25-40HP race, sponsored by B. Lalta and Sons was won by three-time defending small category champion Jose Jardine after a fiercely contested battle with Ravie Dookie and Romeo B. Randolph who were second and third respectively.
Race two, sponsored by R. Ramnarine, was won by five-time defending overall champion Dave Scott. The race, for 225 Unlimited, was contested over four laps.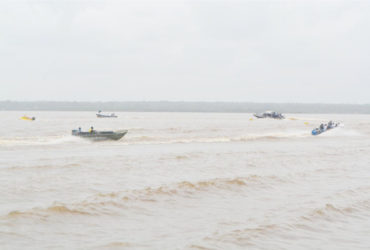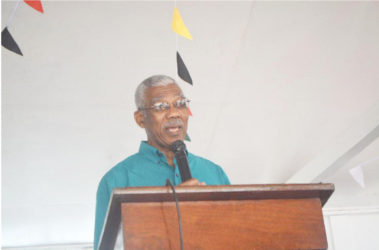 Sean Bell with his boat Quicksilver and Jose Jardine with his boat Flash took second and third respectively.
Race three, contested in the 75-90HP category and sponsored by Guyana Bank for Trade and Industry was won by Jardine with Raymond Rasul, second.
The fourth race, the 225 Open, sponsored by Banks DIH, was won by Scott from Bell and Jardine respectively while the fifth race, contested in the 75-90 HP and sponsored by M. Hopkinson, was won by Jardine from Rasul and Conan Belle respectively.
The Jet Ski race sponsored by Aruwai Resorts was won by Whitney Welcome with Alec Hopkinson and Donavon Washington placing second and third respectively.
Sean Belle was the winner of the 115-200 HP race sponsored by Guyoil, with Jardine and Scott second and third respectively while the  225 Unlimited race, sponsored by Ansa McAl, saw Scott suffering an early scare when he went down twice  before eventually pulling out the win from under the noses of Sean Belle and Jardine in that order.
The 25-40 HP race, sponsored by R. Doobay, saw Jardine once again dominating with Dookie and Romeo B. Randolph placing second and third respectively.
The 10th race, the 115-200 HP category, sponsored by Banks DIH, saw Sean Belle placing first from Jardine and Scot while the final race of the day, the 225 Unlimited, was won by Scott from Sean Belle and Jardine.
Around the Web