Defending champion Team 25, Dave and Celina All-Stars, Jermin and Family Silver Bullets, Swag Entertainment and Amelia's Ward Russians secured quarterfinal berths when the Guinness 'Greatest of the Streets' Linden edition continued Thursday.
Staged at the Mackenzie Market Tarmac, Team 25 squeaked past Coomacka 1-0.Tevin Crawford was on target in the eighth minute.
Also, Dave and Celina All-Stars dismantled Amazings 3-0.
The veteran trio of Rawle Gittens, Keon Sears and Kennard Simon were on target in the third, seventh and 18th minute respectively.
On the other hand, Silver Bullets riddled Eagles 4-0. Jermaine Lewis led the way with a double in the eighth and 18th minute. He was assisted by  Triston Ally and Damion Williams who netted in the 15th and 19th minute.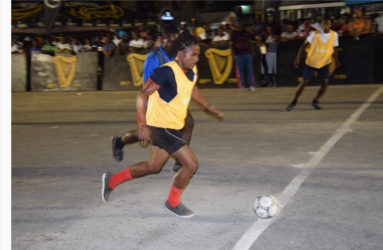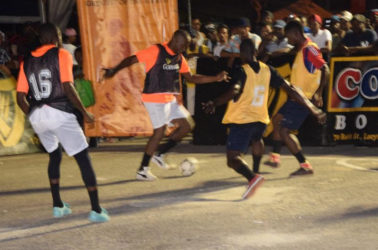 Tournament 'dark horses' Swag Entertainment brushed aside Goodfellas 3-0. Rising star Shane Luckie led the rout with a second half double in the 15th and 16th minute after the marksman Colwyn Drakes had opened the scoring with a second minute strike.
Meanwhile, Amelia's Ward Russians edged Main Street Panthers 1-0. Travis Watterton scored in the 17th minute.
In other results, Young Stars downed Trainline Warriors 2-0 on penalty kicks after regulation time ended 1-1. Tshehedi Whitehead scored in the seventh minute for Young Stars, while Kellon Adams netted in the 19th minute for Trainline Warriors.
Also, Cherokee Park upset Future Stars 1-0. Phillip Austin separated the two sides in the 17th minute. Similarly, High Rollers edged Dream Chasers by an identical scoreline.
Kendolph Lewis was the difference with a 14th minute conversion. The event will resume on Monday at the Amelia's Ward Tarmac with the quarterfinal round.
Winner of the event will pocket $400,000 and the championship trophy. They will also earn the right to represent the zone at the National Championship.
The runners-up will collect $150,000 and the corresponding accolade. The third and fourth place finishers will walk away with $75,000 and $50,000 apiece and the respective trophy.
Complete Results for Day-3
Game-1
Trainline Warriors-1 vs Young Stars-1
Future Stars won 2-0 on penalty kicks
Young Scorer
Tshehedi Whitehead-7th
Trainline Scorer
Kellon Adams-19th
Game-2
Team 25-1 vs Coomacka-0
Tevin Crawford-8th
Game-3
Cherokee Park-1 vs Future Stars-0
Phillip Austin-17th
Game-4
Dave and Celina All-Stars-3 vs Amazings-0
Rawle Gittens-3rd
Keon Sears-7th
Kennard Simon-18th
Game-5
Main Street Panthers-0 vs Amelia Ward Russians-1
Travis Watterton-17th
Game-6
High Rollers-1 vs Dream Chasers-0
Kendolph Lewis-14th
Game-7
Jermaine and Family Silver Bullets-4 vs Eagles-0
Jermaine Lewis-eighth and 18th
Triston Ally-15th, Damion Williams-19th
Game-8
Swag Entertainment-3 vs Good Fellas-0
Shane Luckie-15th and 16th
Colwyn Drakes-2nd
Around the Web