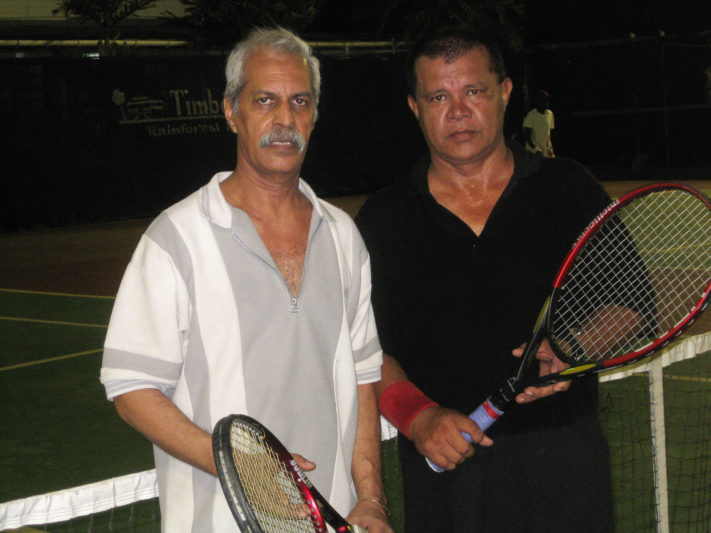 Daniel Lopes defeated Benjettan Osbourne 6-0, 6-1 in a one sided match on Wednesday when the Guyana Bank for Trade and Industry Open lawn tennis tournament continued at the GBTI courts in Bel Air.
He will next meet with top seed Anthony Downes.
In the over 45 category, Berbician Godfrey Lowden won his semi-final encounter against Rudy Grant 6-3 6-1 and he then teamed up with Omar Persaud  to defeat Albert Razick and Steve Surujbally 6-7 6-1 4-0 (retired).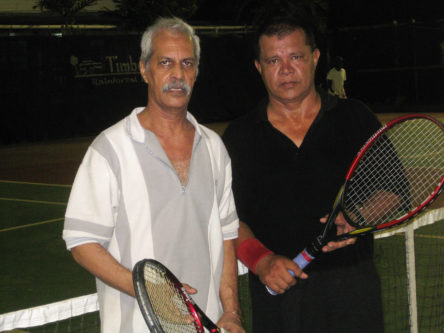 In an entertaining match an injured Heimraj Resaul defeated junior player Khalid Gobin 6-2 7-6 in the boys quarter-final.


Resaul, however, was forced to forfeit his remaining matches because of injury which allowed Joshua Kalekyezi who defeated Nigel Lowe 6-1 6-0 and  top ranked Mark McDonald 6-3, 5-7, 10-7 to book his first GBTI boys final spot where he will play Jordan Beaton.
In the men's Open doubles semi-finals, Mark McDonald and Andre Erskine gave top seeds Anthony Downes/Jason Andrews a scare by winning the second set 6-3 before going down 1-6, 6-1, 2-6.
Leyland Leacock/Daniel Lopes then easily defeated Nicholas Glasgow/Joseph DeJonge 6-2, 6-1 to book their place in the semi-finals.
A keenly contested ladies singles match was cut short when Cristy Campbell suffered progressive muscle cramps and retired in the third set to Kalyca Fraser 3-6 6-3 1-0.
In the quarter-finals of the mixed doubles competition, Ciara Pooran/Nicholas Glasgow defeated GLTA executives Grace McCalman/Jamal Goodluck 6-3, 6-1 and subsequently gave Daniel Lopes/Sarah Klautky a walkover in the semi-finals.
Comments

Leaders Essequibo held a slight advantage over Georgetown at the end of day one of their fourth-round clash of the Guyana Cricket Board (GCB) Jaguars three-day Franchise League tournament played at the Tuschen Sports Club ground, yesterday.

Twenty-four–year old Anthony Adams is a left–arm spin bowling all-rounder who is quite competent with the bat.

MELBOURNE, (Reuters) – Australia captain Steve Smith has accused his batsmen of "panicking" under pressure and demanded they show more starch after another collapse against India saw the side thrashed by 50 runs in the second one-day international in Kolkata.

The cream of the nation's cyclists will renew their rivalry this weekend with back-to-back events.
The 45th edition of the CAC Bodybuilding and Fitness championships has been postponed until further notice following the earthquake in Mexico City.