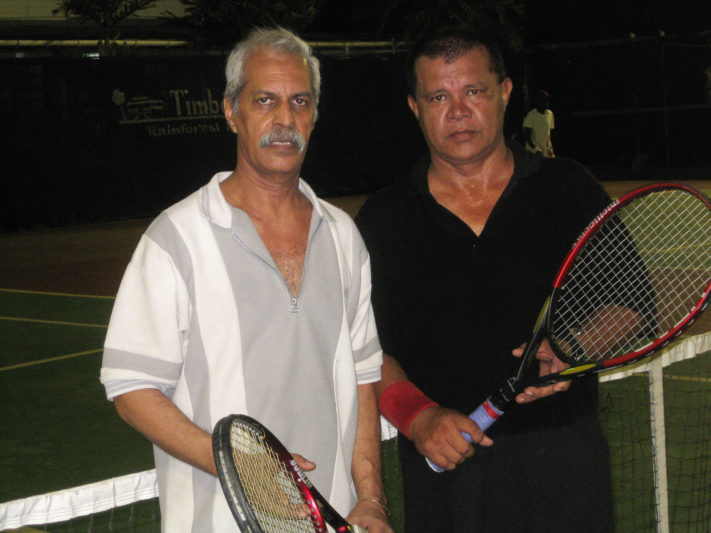 Daniel Lopes defeated Benjettan Osbourne 6-0, 6-1 in a one sided match on Wednesday when the Guyana Bank for Trade and Industry Open lawn tennis tournament continued at the GBTI courts in Bel Air.
He will next meet with top seed Anthony Downes.
In the over 45 category, Berbician Godfrey Lowden won his semi-final encounter against Rudy Grant 6-3 6-1 and he then teamed up with Omar Persaud  to defeat Albert Razick and Steve Surujbally 6-7 6-1 4-0 (retired).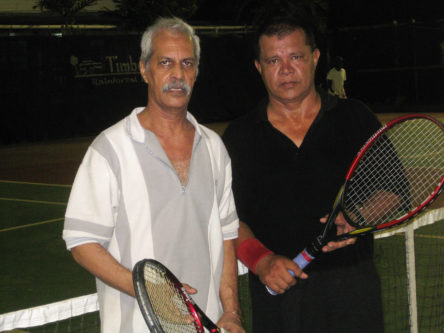 In an entertaining match an injured Heimraj Resaul defeated junior player Khalid Gobin 6-2 7-6 in the boys quarter-final.


Resaul, however, was forced to forfeit his remaining matches because of injury which allowed Joshua Kalekyezi who defeated Nigel Lowe 6-1 6-0 and  top ranked Mark McDonald 6-3, 5-7, 10-7 to book his first GBTI boys final spot where he will play Jordan Beaton.
In the men's Open doubles semi-finals, Mark McDonald and Andre Erskine gave top seeds Anthony Downes/Jason Andrews a scare by winning the second set 6-3 before going down 1-6, 6-1, 2-6.
Leyland Leacock/Daniel Lopes then easily defeated Nicholas Glasgow/Joseph DeJonge 6-2, 6-1 to book their place in the semi-finals.
A keenly contested ladies singles match was cut short when Cristy Campbell suffered progressive muscle cramps and retired in the third set to Kalyca Fraser 3-6 6-3 1-0.
In the quarter-finals of the mixed doubles competition, Ciara Pooran/Nicholas Glasgow defeated GLTA executives Grace McCalman/Jamal Goodluck 6-3, 6-1 and subsequently gave Daniel Lopes/Sarah Klautky a walkover in the semi-finals.
Comments

The Guyana government stepped in on Friday and bailed the Guyana Rugby Football Union (GRFU) out of its financial predicament allowing for the male and female rugby teams to compete at this year's Rugby America's North (RAN) 7s Championship this weekend in Mexico.

KOLKATA, (Reuters) – India's captain Virat Kohli staved off the threat of defeat before their fast bowlers ensured the hosts finished on a high in the drawn opening test against Sri Lanka in an enthralling final day at the Eden Gardens yesterday.

The 2017 edition of the Guinness 'Greatest of the Streets' George-town Championship was officially launched yesterday at the Thirst Park Sports Club.
NEW YORK, (Reuters) – A government witness in the U.S. corruption trial related to soccer's world-governing body FIFA testified yesterday about millions of dollars paid to former soccer officials in exchange for broadcasting and sponsorship rights for international tournaments, all logged in a secret spreadsheet.

Young Achievers Volleyball club was once again the dominant force on the Demerara volleyball circuit after downing their counterparts from the Vanguard Volleyball club in straight sets in the final of the Demerara Volleyball Association (DVA) Men's 'B' division playoff played at the National Gymnasium, Sunday evening.