President's College secured wins in the Boys U16 and U19 divisions, while Marian Academy clinched a victory in the Boys U16 section, when the National School Basketball Festival National Championships continued on Wednesday at the Cliff Anderson Sports Hall.
The East Coast Demerara unit defeated St. Roses High 52-46 in overtime, in the U19 division. Anton Fileen led the winner with figures of 25 points, five steals and four rebounds.
Fileen was assisted by an Akeem Crandon's double-double of 18 points and 22 rebounds. On the other side, Anthony Yansen scored 21 points, grabbed nine rebounds and made six steals, while Kwesi Roberts added a double-double of 15 points, 10 rebounds, complemented with seven steals.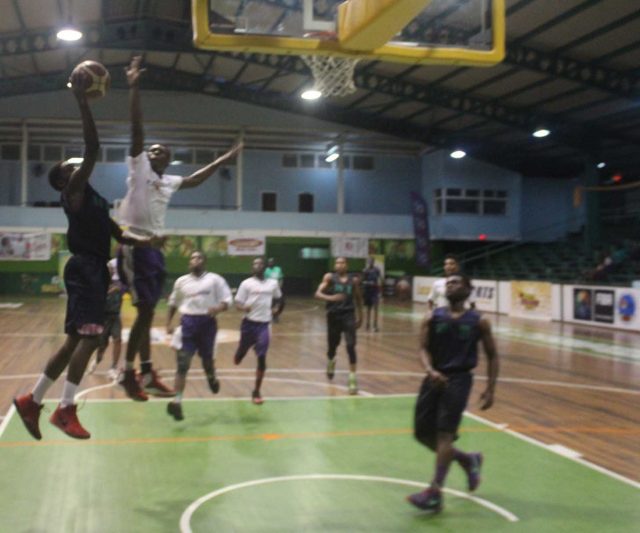 On the other hand, President's College made light work of St. Joseph High, winning by a 52-19 margin in the U16 section.
Rankin McDonald recorded a double-double of 13 points and 14 rebounds, and was ably supported by Akinyan Deirell who tallied 10 points and seven rebounds, and Jesse Thomas who registered nine points, with seven rebounds. For the Woolford Avenue unit, Shaquawn Gill accumulated 11 points, five rebounds.
Meanwhile, Marian Academy dismantled New Amsterdam Multilateral 44-5. Akili Haynes recorded 15 points and seven rebounds, while Josiah Daniel added 11 points, five rebounds, and Jether Harris tallied 10 points, six rebounds and five steals.  For the Berbicians, Imtiaz Jaundoo recorded three points and four rebounds.
The event will resume today at the same venue with six fixtures.
At 14:00hrs, President's College will oppose Mackenzie High in the Girls Division, while Kwakwani will tackle Mackenzie High at 15:00hrs in the Boys U14 semi-final round.
The third fixture will pit Kwakwani against Mackenzie High in the Boys U16 division at 16:00hrs, while Linden Technical Institute (LTI) engages Kwakwani at 17:00hrs in the Boys U19 section.
In the final two matches, President's College battles Marian Academy at 18:00hrs, and Plaisance will lock horns with Tutorial High from 19:00hrs in the Boys U19 zone. The sponsors of the event are the Edward B. Beharry Group of Companies Ltd, National Sports Commission, John Fernandes Ltd and Sterling Products Ltd.
Around the Web