Floodlights softball cricket team exacted a measure of revenge when they defeated Regal Masters to win the New York Softball Cricket League
tournament held June 30-July 2 in the United States of America.
The Guyana Floodlight Softball Cricket Association (GFSCA) official team, champions in 2015 when they defeated Regal Masters, lost to Regal Masters in last year's final.
The two teams reached the final for the third consecutive year in New York and this occasion, Floodlights won the rubber match.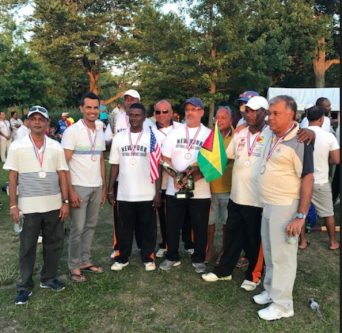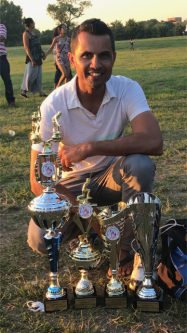 On the way to the final they defeated Tri State Masters, Amazon Warriors and New York Muslim in the preliminary round before trashing New York Hustlers in the semi-final.
In the final, Floodlights made light work of Regal Masters in the match l played at Roy Wilkinson Park.
Batting first Floodlights made 217 for 4 wickets off their allotted 20 overs with eventual Man of the Match Ravi Lutchman stroking an undefeated 112 while Unnis Yusuf made 34 and Lloyd Ruplall 38.
Lutchman and Yusuf put on 66 in six overs before Ruplall and Lutchman added 105 for the second wicket.
Ramesh Narine Deonarine chipped in with 15 while Wayne Jones ended on eight not out.
Regal Masters, in reply, were indebted to Rudolph Baker who was the only batsman to show some resistance with as they ended on 167 for 7 off 20 overs. Jones took 4-32 while Ramo Malone, Ramesh Narine Deonarine and Lutchman took one wicket each.
Floodlights took away all the prizes that were presented in the Legends Tournament. Lutchman, voted Man of the Match in the final, was also MVP of the tournament. In the Open category called the Independence Cup, New York Softball Cricket League defeated Regal All Stars in the final. Floodlights and Floodlights Legend will now turn their attention to Canada, where the "Toronto Cup 2" will be played August 4-6.
Around the Web