The penultimate day of the 2017 Junior Caribbean Squash Championship bore the resemblance to that of a battlefield with the Caribbean juniors looking battered and bruised whilst wielding their rackets relentlessly in the name of nationhood.
The two top teams, Guyana and Barbados however, are the ones in championship contention and are set to continue their fierce rivalry when the two meet in today's final round matches to determine the overall winners of the 2017 championships after both teams recorded comprehensive victories, yesterday.
Guyana, who is chasing a 13th consecutive junior title, earned hard-fought wins over Trinidad and the Cayman Islands in the girls and boys category, respectively.
In the girls division, Kirstein Gomes got Guyana off to an ideal start by defeating Sigourney Williams in straight sets 11-0, 11-2, 11-0.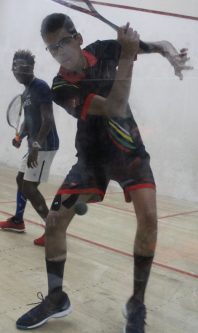 Guyana's girls' captain, Taylor Fernandes then used all her experience to hold off a relentless Alexandria Yearwood 3 – 1. Fernandes dropped the first set 9-11 after which she dug deep to win the second, third and fourth, 11-4, 11-7, and 13-11 to send the hosts 2-1 up.
Makeda Harding, who endured a tough tournament, then hammered Jinan Al Rawi to present Guyana with another win by downing her opponent in straight sets 11-2, 11-3, 11-2.
The improving Madison Fernandes then played a beautiful game by working her opponent around the court while executing a number of pleasing drop shots and forehand drives; she then completed Guyana's 4-1 win by downing Chloe Walcott in straight sets.
Rebecca low, however, lost her match against Marie Barcant three sets to one.
The local boys in the afternoon session got the better of the Cayman Islands, 4 – 1 after Mickey Alphonso lost his match 2-3 to boys' under-13 singles champion, Jace Jarvis.
Guyana, however, owed much of its success to Rithew Saywack, who hobbled through a thigh injury to earn his country a critical match. It is left to be seen if he'll pull on his cape for Guyana's championship match against Barbados today.
Guyana, however, should now rest easy since arch rivals, Barbados worked over the Cayman Islands 4 -1 in the girl's matchup while downing Jamaica by a similar score line in the boy's affair.
Guyana's girls will play the Bajans from 10:00hrs while the boy's matchups between the two countries will commence from 13:00 hrs.
Caption:Caption: Local girl Madison Fernandes, playing one of her effective drop shots in her straight sets win over Chloe Walcott during the morning session (Royston Alkins Photo)
Around the Web