Living sprint legend and six-time Olympian, Kim Collins fittingly grabbed most of the headlines ahead of yesterday's second annual Aliann Pompey Invitational but it was Guyana's own, Winston George who stole the show and shone the brightest among the galaxy of stars which were on full display at the National Track and Field Centre.
George, lowered his own national 400m record en route to clinching a 200/400m double at the meet which attracted in excess of 100 athletes from 17 territories.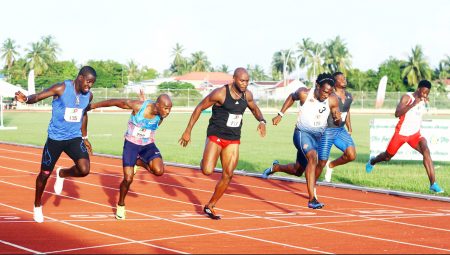 The quarter-mile specialist once again became the fastest Guyanese to cover the 400m distance when he powered to victory in the final of the one-lap event in a blistering 45.16s.
George, who placed second at the meet last year, ceding first place to Brycen Spratling of the USA, made light work of the field this time around as he lowered his own record of 45.25s which was set  two years ago at the last World Championships in Beijing, China. In a well-timed race, the 30-year-old came off the final turn well ahead of the field and ran home ahead of his countryman, Stephan James who finished second in 46.73s and Jonia McDonald of Jamaica who finished third in 47.02s.
Speaking with Stabroek Sport after breaking the record George said, "I came to the championships with the intention of winning but breaking my own record was special. I was expecting a bit of challenge (in the race) but that didn't happen, but it feels great knowing I can leave my name in the books and set a mark for others to go after."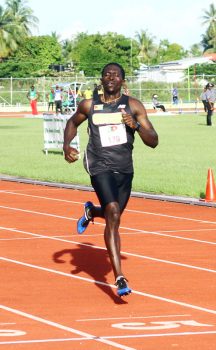 George then returned to complete the sprint double, clinching the half lap event in 20.41s ahead of Trinidad and Tobago's current national champion, Emmanuel Callender (20.77s) and Nicholas Deshong (21.23s) of Barbados.
Also recording a double was Semoy Hackett who sprinted to gold in the women's 100 and 200m events.
Hackett won the 100m with a time of 11.16s. The Trinidad and Tobago native jumped out to a lead thanks to his lightning start and held on as she won by .17 seconds over USA's Tawanna Meadows. Rayare Thomas placed third just 100ths of a second behind Meadows in 11.34s.
Thomas, however, finished second in the 200m in 23.45 in the race which was won by the muscular Hackett in 22.79s. Barbados' Jade Bailey was third in 23.49s.
Meanwhile, silver medalist at the 2014 Central American and Caribbean Games, Levi Cadogan upset Collins to take the spoils in the marquee 100m event.
Collins, 42, failed to produce his signature bullet start and had to settle for the silver in 10.28s behind the Bajan who is 21 years his junior.
Cadogan had arguably the best start of the high calibre field and went on to win in a photo finish in 10.24s.
Bronze medal winner, Tahir Walsh of Antigua and Callender both recorded a time of 10.29s.
Other winner yesterday included: Ashley Kelly (women's 400m), Joanna Archer (women's 800m), Malik Smith (men's 800m), Winston Missigher (men's 3000m), Leslain Baird (men's javelin) and Miguel Van Asseen (men's triple jump).
The organizers dubbed the meet which was a qualifier for the IAAF World Championships a success and plans are in the pipelines to make the annual fixture even bigger. (Emmerson Campbell)
Around the Web