By Royston Alkins in The Bahamas
The opening ceremony of the sixth Commonwealth Youth Games created quite a spectacle at the Queen Elizabeth Sports Centre in Nassau, Tuesday evening.
Officials and athletes alike were seen jiving to the Bahamian carnival atmosphere in the spirit of the Commonwealth-like comradery.
Guyana's contingent, led by flag bearer Claudrice McKoy, embodied the Guyanese persona and appeared purposeful as the procession moved along.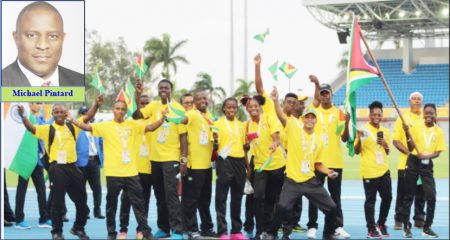 The Hon. Michael Pintard, the Bahamian Minister of Youth, Sports and Culture, in declaring the games open, alluded to the importance of sports in youth development and the opportunities to be had through their involvement in the games.
"I wish to thank all the countries and officials who would have prepared these amazing athletes to participate in these games," he said. "This is the sixth edition of the Commonwealth Youth Games. It's an excellent feeding system to nurture these athletes not merely to become elite athletes but also professional athletes and it also provides a pathway where they can obtain scholarships. They can develop the correct values of what it means to be a well-rounded human beings," the minister said.
His comments were followed by a series of cultural presentations which had the stadium rocking as the opening ceremony culminated with athletes from each representative country, singing and dancing as a show of a true multi-cultural celebration.
Around the Web